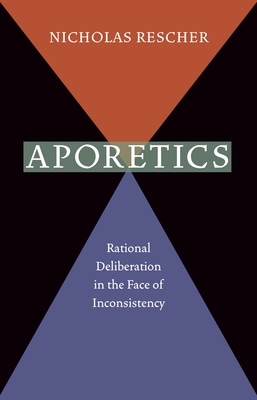 Aporetics (Paperback)
Rational Deliberation in the Face of Inconsistency
University of Pittsburgh Press, 9780822960577, 176pp.
Publication Date: August 24, 2009
* Individual store prices may vary.
Description
The word apory stems from the Greek aporia, meaning impasse or perplexing difficulty. In Aporetics, Nicholas Rescher defines an apory as a group of individually plausible but collectively incompatible theses. Rescher examines historic, formulaic, and systematic apories and couples these with aporetic theory from other authors to form this original and comprehensive survey. Citing thinkers from the pre-Socratics through Spinoza, Hegel, and Nicolai Hartmann, he builds a framework for coping with the complexities of divergent theses, and shows in detail how aporetic analysis can be applied to a variety of fields including philosophy, mathematics, linguistics, logic, and intellectual history.

Rescher's in-depth examination reveals how aporetic inconsistency can be managed through a plausibility analysis that breaks the chain of inconsistency at its weakest link by deploying right-of-way precedence based on considerations of cognitive centrality. Thus while involvement with cognitive conflicts and inconsistencies are pervasive in human thought, aporetic analysis can provide an effective means of damage control.
About the Author
Nicholas Rescher is Distinguished University Professor of Philosophy at the University of Pittsburgh and co-chairman of the Center for Philosophy of Science. A member of the American Academy of Arts and Sciences, he has served as president of the Eastern Division of the American Philosophical Association, the Leibniz Society of North America, the Charles S. Peirce Society, the American Catholic Philosophical Association, and the Metaphysical Society of America. Rescher is the author or editor of more than one hundred books, including Ignorance (On the Wider Implications of Deficient Knowledge), Philosophical Inquiries: An Introduction to Problems of Philosophy, and A Journey through Philosophy in 101 Anecdotes.
Praise For Aporetics: Rational Deliberation in the Face of Inconsistency…
"Extremely rich . . . to be praised for striking the right balance between prescribing 'general' reasoning techniques, and insisting that there will always be considerations specific to the particulars of an individual case."
—Metascience
"Having coined the term 'apory,' Nicholas Rescher takes up the topic of 'aporetic' reasoning. How are we to proceed when things individually plausible cannot all plausibly be true? Having revealed how this phenomenon pervades philosophy, he defines some of its main forms, and offers an applicable prescription."
—Ernest Sosa, Brown University
"Aporetics raises the question 'how do we proceed in the face of inconsistencies?' and the issues of truth, plausibility, reasoning patterns, the relation of belief to action. At this stage of his life, Rescher has written on all of these. What is fun to see is how he brings all the material together into a coherent whole. He is an extremely elegant thinker and writer and Aporetics is Rescher at his best."
—Joseph C. Pitt, Virginia Tech
or
Not Currently Available for Direct Purchase