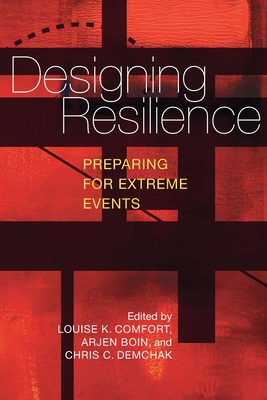 Designing Resilience
Preparing for Extreme Events
Paperback

* Individual store prices may vary.
Description
In the wake of severe climatic events and terrorist acts, and the emergence of dangerous technologies, communities, nations, and global organizations have diligently sought to create strategies to prepare for such events. Designing Resilience presents case studies of extreme events and analyzes the ability of affected individuals, institutions, governments, and technological systems to cope with disaster.

This volume defines resilience as it relates to disaster management at specific stages: mitigation, prevention, preparation, and response and recovery. The book illustrates models by which to evaluate resilience at levels ranging from individuals to NGOs to governmental jurisdictions and examines how resilience can be developed and sustained. A group or nation's ability to withstand events and emerge from them with their central institutions intact is at the core of resilience. Quality of response, capacity to improvise, coordination, flexibility, and endurance are also determinants. Individual case studies, including Hurricane Katrina in the United States, the London bombings, and French preparedness for the Avian flu, demonstrate effective and ineffective strategies.

The contributors reveal how the complexity and global interconnectivity of modern systems—whether they are governments, mobile populations, power grids, financial systems, or the Internet—have transcended borders and created a new level of exposure that has made them especially vulnerable to extreme events. Yet these far-reaching global systems also possess the ability to alert and respond at greater speeds than ever before.

The authors analyze specific characteristics of resilient systems—the qualities they possess and how they become resilient—to determine if there are ways to build a system of resilience from the ground up. As such, Designing Resilience will inform a broad range of students and scholars in areas of public administration, public policy, and the social sciences.
Praise For Designing Resilience: Preparing for Extreme Events…
"For a society that continues to be challenged by severe events, Designing Resilience is a rich, practice-oriented compilation that incorporates recent trends in this growing specialty. The numerous case examples reflect the authors'accumulated wealth of experience, clearly derived from time spent in the trenches of rebuilding or sustaining communities. This text is a useful reference for anyone involved in emergency management and policy making, and it should have widespread use in numerous fields, including psychology, public and international affairs, public administration, political science, emergency and disaster management, international security, and information technology."
—Journal of Homeland Security and Emergency Management
"This book will find a ready market because there is a growing debate on the meaning of resilience. Scholars and officials are struggling to understand the depth of the concept in order to translate it into policy objectives. The contributors provide a broad foundation for the debate and show why resilience is so important."
—William L. Waugh, Jr., Georgia State University
"A definitive and wide-ranging work by internationally renowned scholars. 'Disaster resilience' is for many a mantra regularly extolled but seldom understood. The contributors provide a systematic, sophisticated, thought-provoking, and illuminating discourse on what disaster resilience fundamentally means. This is a terrific combination of theory-advancing work plus masterfully examined American, British, Dutch, and French terror and disaster case studies."
—Richard Sylves, University of Delaware
"A timely publication. . . . Highly recommended for disaster scholars and emergency management professional alike."
—International Journal of Disaster Resilience in the Built Environment
University of Pittsburgh Press, 9780822960614, 384pp.
Publication Date: September 19, 2010
About the Author
Louise K. Comfort
is professor of public and urban affairs and director of the Center for Disaster Management at the Graduate School of Public and International Affairs, University of Pittsburgh.
Arjen Boin is associate professor of public administration and founding director of the Stephenson Disaster Management Institute at Louisiana State University.
Chris C. Demchak is associate professor of public administration and policy at the University of Arizona, Tucson.