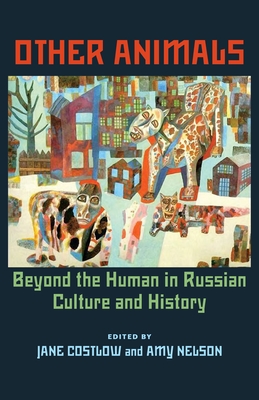 Other Animals
Beyond the Human in Russian Culture and History (Russian and East European Studies)
Paperback

* Individual store prices may vary.
Other Editions of This Title:
Hardcover (8/15/2010)
Description
The lives of animals in Russia are intrinsically linked to cultural, political and psychological transformations of the Imperial, Soviet, and post-Soviet eras. Other Animals examines the interaction of animals and humans in Russian literature, art, and life from the eighteenth century until the present. The chapters probe a range of human-animal relationships through tales of cruelty, interspecies communion and compassion, and efforts to either overcome or establish the human-animal divide. These essays also explore the unique nature of the Russian experience in this regard.  

Four themes run through the volume: the prevalence of animals in utopian visions; the ways in which Russians have both incorporated and sometimes challenged Western sensibilities and practices, such as the humane treatment of animals and the inclusion of animals in urban domestic life; the quest to identify and at times exploit the physiological basis of human and animal behavior and the ideological implications of these practices; and the breakdown of traditional human-animal hierarchies and categories during times of revolutionary upheaval, social transformation, or disintegration.

From failed Soviet attempts to transplant the semi-nomadic Sami and their reindeer herds onto collective farms, to performance artist Oleg Kulik's scandalous portrayal of Pavlov's dogs as a parody of the Soviet "new man," to novelist Tatyana Tolstaya's post-cataclysmic future world of hybrid animal species and their disaffection from the past, Other Animals presents a completely new perspective on Russian and Soviet history. It also offers a fascinating look into the Russian psyche as seen through human interactions with animals.
Praise For Other Animals: Beyond the Human in Russian Culture and History (Russian and East European Studies)…
"Other Animals
provides substantial cross-disciplinary support for Claude Levi-Strauss's assertion that 'animals are good to think with.'  The collection demonstrates that thinking about animals in the Russian context can open up surprising new avenues of research and inspire new ways of thinking about old, familiar topics. The volume will be thought provoking to those outside Russian and Soviet studies and a provocative delight to those familiar with the landscape through which these animals roam."
—Chris Ely, Florida Atlantic University
"Bringing the very latest scholarly methods used in Animal Studies to the study of modern and postmodern Russian culture, the contributors to
Other Animals
provide insightful and stimulating essays, not only on human attitudes toward (and interactions with) non-human creatures, but also on the "animalization" of the human. Costlow and Nelson have assembled a stellar collection of thought-provoking studies of the human-animal connection that will greatly benefit readers from a broad spectrum of academic disciplines and intellectual interests."
—Ronald D. LeBlanc, University of New Hampshire
"A marvelous collection of [essays] that are accessible and of value to the general reader."
—Review Mania
"Eclectic and far-reaching . . . a challenging collection of studies. Its scope is broad and its contributors seem to feel few restrictions in their cross-disciplinary approaches."
—Slavic and East European Journal
"The sheer range of methodologies and objects of study, as well as the solid research and engaging writing by the contributors, make this collection a stimulating and original read."
—The Russian Review
"A necessary initial contribution to the study of non-humans in the Russian context. Researchers who wish to investigate the problems of animals in Russian culture will find much in this collection that is useful, and instructors both of undergraduate- and graduate-level classes should find individual chapters relevant to a range of topics in history and literature."
—The NEP Era
University of Pittsburgh Press, 9780822960638, 336pp.
Publication Date: August 15, 2010
About the Author
Jane Costlow is professor of Russian language and literature at Bates College in Maine and is coeditor of Sexuality and the Body in Russian Culture.
or
Not Currently Available for Direct Purchase