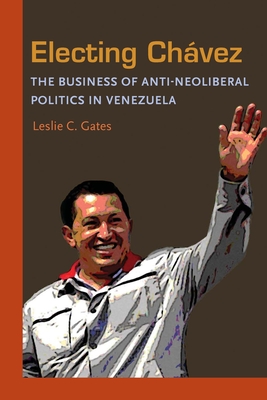 Electing Chavez
The Business of Anti-neoliberal Politics in Venezuela (Pitt Latin American Series)
Paperback

* Individual store prices may vary.
Description
Venezuela's Hugo Chávez was the first anti-neoliberal presidential candidate to win in the region.  Electing Chávez examines the circumstances that facilitated this pivotal election.  By 1998, Venezuela had been rocked by two major scandals—the exchange rate incidents of the 1980s and the banking crisis of 1994—and had suffered rising social inequality.  These events created a deep-seated distrust of establishment politicians. Chávez's 1998 victory, however, was far from inevitable. Other presidential candidates also stood against corruption and promised a clean break from politics as usual. Moreover, business opposition to Chávez's anti-neoliberal candidacy should have convinced voters that his victory would provoke a downward economic spiral. 

In Electing Chávez, Leslie C. Gates examines how Chávez won over voters and even obtained the secret allegiance of a group of business "elite outliers," with a reinterpretation of the relationship between business and the state during Venezuela's era of two-party dominance (1959-1998). Through extensive research on corruption and the backgrounds of political leaders.
Gates tracks the rise of business-related corruption scandals and documents how business became identified with Venezuela's political establishment. These trends undermined the public's trust in business and converted business opposition into an asset for Chávez.  This long history of business-tied politicians and the scandals they often provoked also framed the decisions of elite outliers.  As Gates reveals, elite outliers supported Chávez despite his anti-neoliberal stance because they feared that the success of Chávez's main rival would deny them access to Venezuela's powerful oil state.
Praise For Electing Chavez: The Business of Anti-neoliberal Politics in Venezuela (Pitt Latin American Series)…
"Most explanations of the rise of Hugo Chávez focus attention on failed institutions and policies.
Electing Chávez
shifts attention to the private sector, which discredited itself in the public eye with scandals and even helped finance the Chávez campaign. Although other observers have suspected that these factors played a role, Leslie Gates is the first to provide comprehensive, systematic evidence."
—Michael Coppedge, University of Notre Dame
"This case study enhances our understanding of the political impact of corruption and of relations between business and petrostates. Class analysis and institutional failure cannot alone explain Chávez's rise. Gates's highly creative empirical investigation shows how declining public confidence in business and fear of losing access to the resource-rich government induced many businessmen to support Chávez despite his anti-neoliberal appeal."
—Daniel Hellinger, Webster University
"One of this book's most salient features is Stronski's use of archival sources located at the federal, republic, and city levels, as well as his ability to negotiate documents in both Russian and Uzbek. An important addition to understanding how Soviet power was implemented and resisted in an urban center. Highly recommended."
—Political Science Quarterly
"A richly empirical analysis of the factors underlying Chavez's 1998 victory and challenging scholars to re-focus their attention to business-state relations to explain anti-neolibreal electoral victories."
—Social Forces
"The most compelling analysis that I have seen of the pivotal 1998 Venezuelan presidential election which brought Hugo Chavez to power. . . . Methodologically and theoretically, Gates' book is enormously rewarding. No social scientist studying Latin America in the neoliberal and post-neoliberal eras can afford to remain ignorant of Gates' points."
—European Review of Latin American and Caribbean Studies
"A focused, serious, and creative case study that helps to reorder priorities for those trying to understand what in the world is happening to one of the significant political currents in Latin America. President Chavez would do well to read Gates, should he wish to better understand how his failed coup of 1992 was transformed into the successful election of 1998, how to understand the political significance of the powerful business elites, and to avoid the pitfalls of a rentier state."
—The Review of Politics
University of Pittsburgh Press, 9780822960645, 208pp.
Publication Date: April 30, 2010
About the Author
Leslie C. Gates is assistant professor of sociology at Binghamton University.