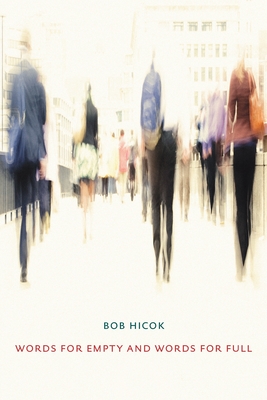 Words for Empty and Words for Full (Pitt Poetry Series) (Paperback)
University of Pittsburgh Press, 9780822960775, 96pp.
Publication Date: March 5, 2010
* Individual store prices may vary.
About the Author
Bob Hicok is associate professor of English at Virginia Tech University. He is the author of This Clumsy Living, Insomnia Diary, Animal Soul (a finalist for the National Book Critics Circle Award,) Plus Shipping, and The Legend of Light. Hicok is the recipient of a Guggenheim Fellowship, two NEA Fellowships, the Rebekah Johnson Bobbitt National Poetry Prize from the Library of Congress, the Felix Pollak Prize, the Jerome J. Shestack Prize, and four Pushcart Prizes. His poems have appeared in five volumes of Best American Poetry.
Praise For Words for Empty and Words for Full (Pitt Poetry Series)…
"As always with a Bob Hicok book, fascinating and a book you sort of can't help but pick up and suddenly, two hours later, find yourself having read straight through. I can think of just about no contemporary poets who publish such consistently great work."
—Corduroy Books
"With 'Words for Empty and Words for Full,' Hicok has begun to find a way to combine the several aspects of his imagination--narration, association, humor, self-conscious reflexivity. The result is poetry memorable for its structure, its image and sound, but also for demanding that we readers enter into some serious thinking about our place and time."
—Boston Review
"Bob Hicok is that rarity, a cheerful contemporary poet—if not completely happy, still hopeful and celebrative. Ever alert to the transient beauties and beautiful ironies of the world, Hicok's poems praise even as they grieve. Love, physical and emotional, is a consistent theme: the joy of it, the need for it, the pain of lacking it, and above all, its ability to redeem."
—Los Angeles Review of Books
"One of the hallmarks of Hicok's poems is their momentum, the exhilarating force with which his voice carries them forward. But the poems here are driven by an especial sense of urgency, by Hicok's need to engage with the problems that swirl around us."
—West Branch