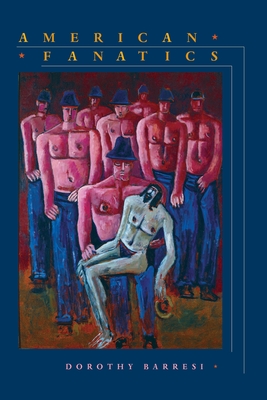 American Fanatics (Pitt Poetry Series)
Paperback

* Individual store prices may vary.
Description
A book of contemporary poetry exploring the fine, shifting line between faith—secular and spiritual faith—and fanaticism in an insecure age, American Fanatics is a lyrical, pop-culture inflected meditation on democracy, morality, beauty, commerce, and the cost of falling dreams.
Praise For American Fanatics (Pitt Poetry Series)…
"American Fanatics is driven by a diction that is electrifyingly alive with the idiosyncratic pulse of our strange particular historical moment that includes pet dogs slaughtered by coyotes, mystical Vietnamese nail salon workers, and ephebiphobiacs wandering our sunny streets, these poems enchant and inspire. Part hip metaphysician, part late corrupted dharma bum, Dorothy Barresi is also Simic- or Marquez-like in her regard for the world, which allows her to evoke a magically realistic panorama that comes to resemble, as we make our way through this wonderful book, our own entropic world. I haven't been this excited and optimistic about the state of American poetry in a long time, and I can't wait for you to read this book."
—Bruce Weigl
"Force and grace are two words I think of when I think of Dorothy Barresi's poetry: lyrical and beautiful, tough and tragic, hers is a poetry that is written in the American grain."
—Stephanie Brown
"A can't-miss collection for anyone who's ever admitted, 'Lord I'm scared.'"
—Santa Barbara Independent
University of Pittsburgh Press, 9780822960799, 112pp.
Publication Date: August 6, 2010
About the Author
Dorothy Barresi is professor of English at California State University, Northridge. She is the author of three previous poetry collections: All of the Above, winner of the Barnard College New Women Poets Prize; The Post-Rapture Diner, winner of the American Book Award; and Rouge Pulp.