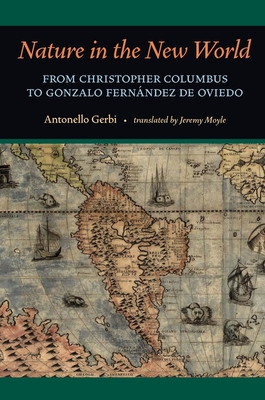 Nature in the New World (Paperback)
From Christopher Columbus to Gonzalo Fernández de Oviedo
University of Pittsburgh Press, 9780822960805, 480pp.
Publication Date: June 28, 2010
* Individual store prices may vary.
Description
In Nature in the New World (translated 1985),Antonello Gerbiexamines the fascinating reports of the first Europeans to see the Americas. These accounts provided the basis for the images of strange and new flora, fauna, and human creatures that filled European imaginations.

Initial chapters are devoted to the writings of Columbus, Vespucci, Cortés, Verrazzano, and others. The second portion of the book concerns the Historia general y natural de las Indias of Gonzalo Fernández de Oviedo, a work commissioned by Charles V of Spain in 1532 but not published in its entirety until the 1850s. Antonello Gerbi contends that Oviedo, a Spanish administrator who lived in Santo Domingo, has been unjustly neglected as a historian. Gerbi shows that Oviedo was a major authority on the culture, history, and conquest of the New World.
About the Author
Antonello Gerbi (1904–1976) was a specialist on the history of political ideology and the author of several books, including The Dispute of the New World: The History of a Polemic, 1750–1900
Praise For Nature in the New World: From Christopher Columbus to Gonzalo Fernández de Oviedo…
"This book glows with the fully assimilated learning of the polymath Gerbi, whose command and understanding of the literature of various cultures enlightens every page. Neither a notice nor a full-fledged review could do justice either to the brilliance of the book or to the felicity of Moyle's translation. The book must be read to be appreciated."
—Early American Literature
"A fascinating work, it is divided into two parts: the first deals with eleven writers from Columbus to Verrazzano, while the remaining two-thirds of the book deal with the other treasure from the Indies—Oviedo's writings and observations. . . . This prodigiously learned work is full of good things."
—Bulletin of Hispanic Studies
"This is an extraordinary work in excellent translation. . . . An expert will know what to look for and how to evaluate the entire volume. The grade it receives is bound to be high. Others may simply delight in the unexpected elements of quadrivium and trivium that continually jump from the pages of this book. . . . Thorough, valuable, and exciting."
—Journal of American History
or
Not Currently Available for Direct Purchase