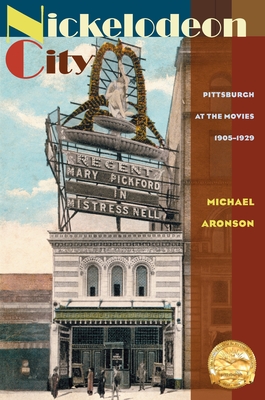 Nickelodeon City
Pittsburgh at the Movies, 1905-1929
Paperback

* Individual store prices may vary.
Other Editions of This Title:
Hardcover (10/6/2008)
Description
From the 1905 opening of the wildly popular, eponymous Nickelodeon in the city's downtown to the subsequent outgrowth of nickel theaters in nearly all of its neighborhoods, Pittsburgh proved to be perfect for the movies. Its urban industrial environment was a melting pot of ethnic, economic, and cultural forces-a "wellspring" for the development of movie culture-and nickelodeons offered citizens an inexpensive respite and handy escape from the harsh realities of the industrial world.
Nickelodeon City provides a detailed view inside the city's early film trade, with insights into the politics and business dealings of the burgeoning industry. Drawing from the pages of the Pittsburgh Moving Picture Bulletin, the first known regional trade journal for the movie business, Michael Aronson profiles the major promoters in Pittsburgh, as well as many lesser-known ordinary theater owners, suppliers, and patrons. He examines early film promotion, distribution, and exhibition, and reveals the earliest forms of state censorship and the ensuing political lobbying and manipulation attempted by members of the movie trade. Aronson also explores the emergence of local exhibitor-based cinema, in which the exhibitor assumed control of the content and production of film, blurring the lines between production, consumption, and local and mass media.
Nickelodeon City offers a fascinating and intimate view of a city and the socioeconomic factors that allowed an infant film industry to blossom, as well as the unique cultural fabric and neighborhood ties that kept nickelodeons prospering even after Hollywood took the industry by storm.

Praise For Nickelodeon City: Pittsburgh at the Movies, 1905-1929…
"It has been a long time since I have so thoroughly enjoyed a work of film history. The specialists aren't the only audience for whom this book is intended. . . .One of the best local histories of Pittsburgh and western Pennsylvania. Aronson is that rare creature: a prodigious researcher who knows how to write. There is [not] a dull sentence in the entire book."
—Pennsylvania Magazine of History and Biography

"Pittsburgh was the epicenter of the nickelodeon boom. Until now, accounts of what was often called 'the Pittsburgh Idea' have been more myth and legend dressed up with a few scattered facts than coherent history. Nickelodeon City is a book that was waiting, needing to be written. Who would have guessed it could be done with such perceptiveness and depth."
—Charles Musser, professor of film studies, Yale University, and author of The Emergence of Cinema

"Michael Aronson's Nickelodeon City is "It is also a wonderful evocation of Pittsburgh when the steel mills stretched twenty miles down the river. For anyone who loves Pittsburgh and the movies, this elegantly written book is a real treat."
University of Pittsburgh Press, 9780822961093, 300pp.
Publication Date: March 28, 2010
About the Author
Michael Aronson is assistant professor of English at the University of Oregon.