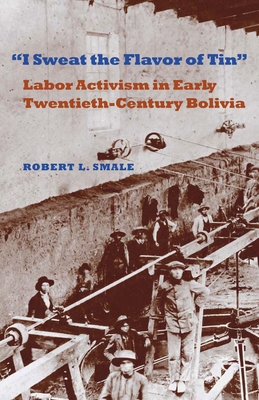 I Sweat the Flavor of Tin (Paperback)
Labor Activism in Early Twentieth-Century Bolivia (Pitt Latin American Series)
University of Pittsburgh Press, 9780822961178, 248pp.
Publication Date: September 26, 2010
Other Editions of This Title:
Hardcover (9/26/2010)
* Individual store prices may vary.
Description
On June 4, 1923, the Bolivian military turned a machine gun on striking miners in the northern Potosí town of Uncía.  The incident is remembered as Bolivia's first massacre of industrial workers.  The violence in Uncía highlights a formative period in the development of a working class who would eventually challenge the oligarchic control of the nation.

Robert L. Smale begins his study as Bolivia's mining industry transitioned from silver to tin; specifically focusing on the region of Oruro and northern Potosí. The miners were part of a heterogeneous urban class alongside artisans, small merchants, and other laborers. Artisan mutual aid societies provided miners their first organizational models and the guidance to emancipate themselves from the mine owners' political tutelage.  During the 1910s both the Workers' Labor Federation and the Socialist Party appeared in Oruro to spur more aggressive political action. In 1920 miners won a comprehensive contract that exceeded labor legislation debated in Congress in the years that followed.  Relations between the working class and the government deteriorated soon after, leading to the 1923 massacre in Uncía. Smale ends his study with the onset of the Great Depression and premonitions of war with Paraguay—twin cataclysms that would discredit the old oligarchic order and open new horizons to the labor movement.

This period's developments marked the entry of workers and other marginalized groups into Bolivian politics and the acquisition of new freedoms and basic rights.  These events prefigure the rise of Evo Morales—a union activist born in Oruro—in the early twenty-first century. 
About the Author
Robert L. Smale is assistant professor of history at the University of Missouri–Columbia.
Praise For I Sweat the Flavor of Tin: Labor Activism in Early Twentieth-Century Bolivia (Pitt Latin American Series)…
"This is an excellent work that will become required reading in graduate seminars and is a valuable addition to labor studies in general. Smale provides fresh information on the emergence of the labor movement in Bolivia in the first study of its kind in many years. He has documented his case in innovative ways, using previously unknown sources from Oruro, the region where the Bolivian labor movement began. A must-read for all those interested in labor history and the relationship between the peasantry and the working class in Latin America."
—Erick D. Langer, Director, Center for Latin American Studies, Georgetown University
"In this important and finely wrought social history, Robert Smale explores the potent alchemy of worker activism and Socialist Party politics that periodically turned the tin mines of Oruro and northern Potosí into battlegrounds of popular mobilization and state violence. Shifting the focus away from the recent emphasis on indigenous peasant movements, Smale locates the urban popular classes and their revolutionary unions at center stage of the larger narrative of Bolivia's turbulent political history leading up to the Chaco War."
—Brooke Larson, Stony Brook University
"Smale's careful and close study of labor activism in the city of Oruro in the first three decades of the twentieth century is to be welcomed. . . . There is a wealth of information here, and it is carefully documented and well written and its narrative of struggles of the Oruro workers is compelling."
—The Americas
"One of the great strengths of this book is Smale's extensive use of the city of Oruro's prefectural archives. These materials document the development of the labour movement on the local level, and provide a human element to the story. . . . Smale skillfully weaves together national and even international political and economic history with the local story."
—Bulletin of Latin American Research
or
Not Currently Available for Direct Purchase