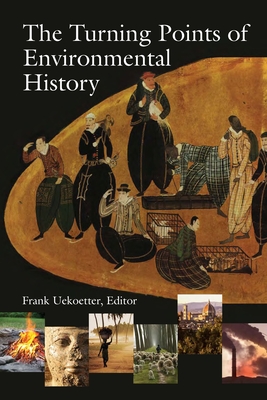 The Turning Points of Environmental History (Paperback)
University of Pittsburgh Press, 9780822961185, 220pp.
Publication Date: November 21, 2010
* Individual store prices may vary.
Description
From the time when humans first learned to harness fire, cultivate crops, and domesticate livestock, they have altered their environment as a means of survival. In the modern era, however, natural resources have been devoured and defiled in the wake of a consumerism that goes beyond mere subsistence. In this volume, an international group of environmental historians documents the significant ways in which humans have impacted their surroundings throughout history.
    John McNeill introduces the collection with an overarching account of the history of human environmental impact. Other contributors explore the use and abuse of the earth's land in the development of agriculture, commercial forestry, and in the battle against desertification in arid and semi-arid regions. Cities, which first appeared some 5,500 years ago, have posed their own unique environmental challenges, including dilemmas of solid waste disposal, sewerage, disease, pollution, and sustainable food and water supplies.
The rise of nation-states brought environmental legislation, which often meant "selling off" natural resources through eminent domain. Perhaps the most damaging environmental event in history resulted from a "perfect storm" of effects: cheap fossil fuels (especially petroleum) and the rapid rise of personal incomes during the 1950s brought an exponential increase in energy consumption and unforseen levels of greenhouse gasses to the earth's atmosphere. By the 1970s, the deterioration of air, land, and water due to industrialization, population growth, and consumerism led to the birth of the environmental and ecological movements.
    Overall, the volume points to the ability and responsibility of humans to reverse the course of detrimental trends and to achieve environmental sustainability for existing and future populations.
About the Author
Frank Uekotter is a Dilthey Fellow with the Research Institute of the Deutsches Museum and deputy director of the Rachel Carson Center in Munich, Germany. He is the author of The Age of Smoke: Environmental Policy in Germany and the United States, 1880–1970.
Praise For The Turning Points of Environmental History…
"Some intellectual tsunamis begin with string quartets, others with overtures played on kettle-drums. The former often bores, the latter always deafens. After a while, if we're lucky, both crumble into questions that we can try to ask and need to answer if we are to survive. The Turning Points of Environmental History is a combination tool and a first aid kit of these."
—Alfred W. Crosby, University of Texas, emeritus
"The Turning Points of Environmental History is a provocative collection of essays that explores 'big-picture' questions in environmental history. Most notable is the editor's insistence on avoiding a focus that is solely European or North American. This collection will be helpful for instructors of undergraduate as well as graduate courses in history and environmental studies."
—Nancy Langston, University of Wisconsin-Madison
"Uekoetter has achieved superb editorial success, selecting quality authors and assuring germaneness to the subject matter. . . .This book has thematic unity that merits reading as a whole. It is potentially stimulating for historians, particularly those who wonder what new periodization environmental history can suggest. The clarity of the essays makes it approachable for students, and it can well be used as a source of readings in environmental history courses."
—Environmental History
or
Not Currently Available for Direct Purchase