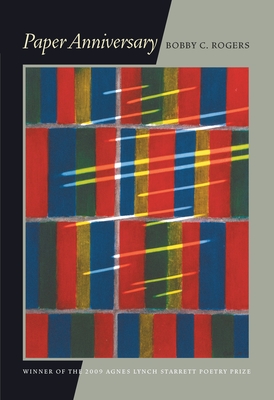 Paper Anniversary (Pitt Poetry Series) (Paperback)
University of Pittsburgh Press, 9780822961246, 88pp.
Publication Date: September 15, 2010
* Individual store prices may vary.
About the Author
Bobby C. Rogers is professor of English at Union University in Jackson, Tennessee. His poems have appeared in the Southern Review, the Georgia Review, Image, Shenandoah, Puerto del Sol, and numerous other magazines. He is the recipient of the Greensboro Review Literary Prize in Poetry and has twice been nominated for a Pushcart Prize.
Praise For Paper Anniversary (Pitt Poetry Series)…
"There is something in American poetry that might be called the book of the small town or, equally, the tale of the good family; or, if you like, the American Grafitti Suite. Poems that discover life's bonuses in new love, wise parents, old books, venerable nature, and the mysteries of all that endures in the face of the viciousness no life escapes—are, well, worth the wait. That's how I feel about Paper Anniversary. His poems are full of the best news, the kind the soul, as W. C. Williams attested, can get nowhere better than in the life of the lively mind. I think any reader will find this an auspicious, welcome arrival."
—Dave Smith
 
"In his superb Paper Anniversary, Bobby Rogers is a near mystic of the domestic because love of family and landscape is connected to the eternal—and if not the eternal, our longing for love to last. Rogers is a meditative poet, then, one who knows language and memory are inadequate to hold love in an abiding present: 'But ownership is the last lie/we tell ourselves—nothing goes unshared.' So his moving, widely thoughtful, and commodious poems are full of joy tinged with elegy."
—Andrew Hudgins
 
"Combining a sprawling contemporary colloquialism with the aesthetic yearnings of a consciousness that seeks to understand itself through poetry, Paper Anniversary reminds us of the enduring power of narrative. In this postmillennial era when meaningful human voices grow increasingly less audible and more frustratingly inarticulate, can there be anything more important than that?"
—Kate Daniels
"In 'Paper Anniversary's' dense texture of memories, there isn't a cheap epiphany or false moral, no matter how deeply you probe."
—Pittsburgh Post-Gazette
"[Rogers'] lines unroll into the ear with the music of a storyteller and the rhythms of a finely crafted bentwood rocking chair."
—Book Punch Reviews
or
Not Currently Available for Direct Purchase