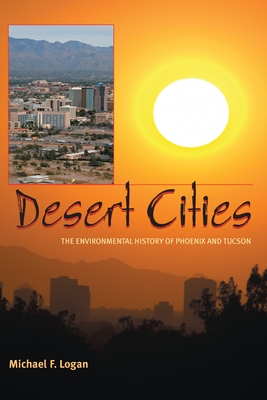 Desert Cities
The Environmental History of Phoenix and Tucson (Pittsburgh Hist Urban Environ)
Paperback

* Individual store prices may vary.
Description
Phoenix is known as the "Valley of the Sun," while Tucson is referred to as "The Old Pueblo." These nicknames epitomize the difference in the public's perception of each city. Phoenix continues to sprawl as one of America's largest and fastest-growing cities. Tucson has witnessed a slower rate of growth, and has only one quarter of Phoenix's population. This was not always the case. Prior to 1920, Tucson had a larger population. How did two cities, with such close physical proximity and similar natural environments develop so differently?

Desert Cities examines the environmental circumstances that led to the starkly divergent growth of these two cities. Michael Logan traces this significant imbalance to two main factors: water resources and cultural differences. Both cities began as agricultural communities. Phoenix had the advantage of a larger water supply, the Salt River, which has four and one half times the volume of Tucson's Santa Cruz River. Because Phoenix had a larger river, it received federal assistance in the early twentieth century for the Salt River project, which provided water storage facilities. Tucson received no federal aid. Moreover, a significant cultural difference existed. Tucson, though it became a U.S. possession in 1853, always had a sizable Hispanic population. Phoenix was settled in the 1870s by Anglo pioneers who brought their visions of landscape development and commerce with them.

By examining the factors of watershed, culture, ethnicity, terrain, political favoritism, economic development, and history, Desert Cities offers a comprehensive evaluation that illuminates the causes of growth disparity in two major southwestern cities and provides a model for the study of bi-city resource competition.
Praise For Desert Cities: The Environmental History of Phoenix and Tucson (Pittsburgh Hist Urban Environ)…
"Seamlessly integrates environmental, urban, and western history in a provocative story about the rivalry between Arizona's cities. Will appeal to both scholars and a general audience."
—Environmental History
"A broad and important study that adds to a growing literature that stresses the need to continue to think and write about the environmental histories of cities."
—Western Historical Quarterly
"Meticulously documents the causes of the growth disparity between Tucson and Phoenix. More than a scholarly text, 'Desert Cities' is relevant, provocative and highly recommended."
—Tucson Citizen
University of Pittsburgh Press, 9780822961314, 240pp.
Publication Date: November 15, 2006
About the Author
Michael F. Logan is professor of history at Oklahoma State University.