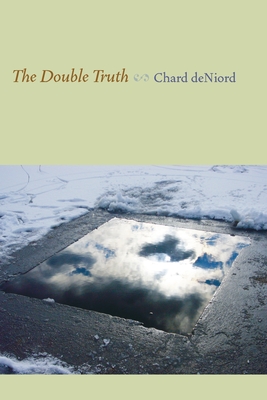 The Double Truth (Pitt Poetry Series) (Paperback)
University of Pittsburgh Press, 9780822961345, 96pp.
Publication Date: January 18, 2011
* Individual store prices may vary.
Description
The Double Truth is a collection of poems that arc from myth to history, knowledge to mystery, Eros to natural love, animals to human beings, then back in an alternating poetic current that betrays a speaker who is at once a privileged witness of her time and a diachronic amalgam of voices that are as imagined as they are real in their anonymous legacy.
About the Author
Chard deNiord is the author of three previous poetry collections: Night Mowing, Sharp Golden Thorn, and Asleep in the Fire.  His poetry has appeared in many journals, including Crazyhorse, Antioch Review, American Poetry Review, Salmagundi, and Prairie Schooner. He is associate professor of English at Providence College and cofounder of the New England College MFA program in poetry.
Praise For The Double Truth (Pitt Poetry Series)…
 "'History, you know, is one thing and our lives are something else,' wrote Octavio Paz, and Chard deNiord's response to this in The Double Truth is both fascinating and instructive. The voice in these poems seems to have a cunning ability to see oneself as if from a distance. This is compelling, beautiful poetry."
—Ilya Kaminsky
"Whether the language is rough and obscure or delicate and precise, this is Chard deNiord's finest book. Philosophical and passionate, he poses this question: Within the enigma of life, how can we know? And who will not remember the ecstasy of love when reading his lines: 'We were in two places at once like a wire, / stretched out between the cathodes of our / desire. So bare and live the ether / hummed like a swarm inside the air.'"
—Ruth Stone
"Very few contemporary poets render, as uniquely as Chard deNiord does, the sheer wonder of being. Our world shines up from his lines and sentences with all its original splendor and strangeness. In deNiord's spectacular gaze, old binaries of reality and dream, bitterness and love, joke and revelation, fuse into a beautiful whole. deNiord is a visionary and The Double Truth is a vital book."
—Peter Campion
"With philosophers and beasts for his confidants, deNiord accesses both eros and cosmos—the far reaches of love and eternity—with a companionable, searing exactness. These are quiet, bottomless poems of true consequence."
—Robin Behn
 
"Captivates with its lyric language, addressing the ebb and flow of love's presnece in life, imparting the poet's insightful knowledge."
—Prairie Schooner