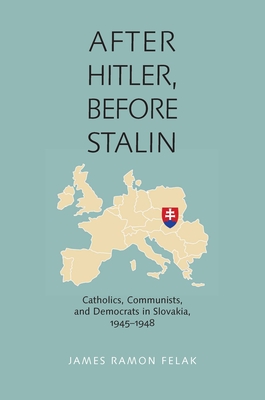 After Hitler, Before Stalin (Paperback)
Catholics, Communists, and Democrats in Slovakia, 1945-1948 (Pitt Series in Russian and East European Studies)
University of Pittsburgh Press, 9780822961376, 261pp.
Publication Date: November 15, 2010
Other Editions of This Title:
Hardcover (7/30/2009)
* Individual store prices may vary.
Description
After Hitler, Before Stalin examines the crucial postwar period in Slovakia, following Nazi occupation and ending with the Communist coup of February1948. Centering his work around the major political role of the Catholic Church and its leaders, James Ramon Felak offers a fascinating study of the interrelationship of Slovak Catholics, Democrats, and Communists. He provides an in-depth examination of Communist policies toward Catholics and their strategies to court Catholic voters, and he chronicles the variety of political stances Catholics maintained during Slovakia's political turmoil. Felak opens by providing a background on pre-war and wartime Slovak politics, notably the rise of Slovak Catholic nationalism and Slovakia's alignment with Nazi Germany during World War II. He then describes the union formed in the famed "April Agreement" of 1946 between the Democratic Party and Catholics that guaranteed a landslide victory for the Democrats and insured a position for Catholics in the new regime. Felak views other major political events of the period, including: the 1947 Czechoslovak war crimes trial of Father Jozef Tiso; education policy; the treatment of the Hungarian minority; the trumped-up "anti-state conspiracy" movement led by police in the Fall of 1947; and the subsequent Communist putsch. Through extensive research in Slovak national archives, including those of the Democratic and Communist parties, After Hitler, Before Stalin assembles a comprehensive study of the predominant political forces and events of this tumultuous period and the complex motivations behind them.

About the Author
James Ramon Felak is associate professor of history at the University of Washington. He is the author of At the Price of the Republic: Hlinka's Slovak People's Party, 1929-1938, and coeditor of Nations and Nationalisms in East-Central Europe, 1806-1948.
Praise For After Hitler, Before Stalin: Catholics, Communists, and Democrats in Slovakia, 1945-1948 (Pitt Series in Russian and East European Studies)…
"After Hitler, Before Stalin is the most important English-language contribution to our understanding of the struggle over Slovak Catholics in the fateful period between the end of World War II and the Communist Party's assumption of total power in February of 1948. Slovakia is the ideal laboratory for an investigation of Catholics and politics in early postwar Europe and Felak's careful research illuminates issues that are central for understanding the whole of East-Central Europe."
—Bradley F. Abrams, Columbia University


"Felak goes beyond Slovakia's peculiar circumstances in that transitional period—including the shadow of the Axis-supported Tiso regime and the influence of the Czech portion of the Czechoslovak Republic—to trace the complex and contradictory political trajectories of Slovakia's Catholics, Communists, and Democrats. . . . Clear and subtle analysis . . . suitable for undergraduate and graduate students as well as for scholars."
—Catholic Historical Review
"Offers a valuable perspective on how Slovak political parties jostled for power after World War II, the place of religion in this struggle, and the political foundations of the postwar Communist order."
—Austrian History Yearbook 42
"The history of Slovakia from 1945–1948 is usually told as part of Czechoslovak history. Felak's book focuses on events inside Slovakia, following a triangle of conflicts and agreements involving the two main political parties and the Catholic Church... A very good blow-by-blow account of political conflicts in Slovakia."
—American Historical Review