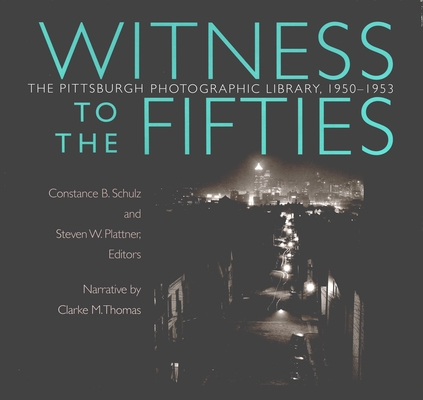 Witness to the Fifties (Paperback)
The Pittsburgh Photographic Library, 1950–1953
University of Pittsburgh Press, 9780822961406, 192pp.
Publication Date: September 28, 2019
Other Editions of This Title:
Hardcover (10/7/1999)
* Individual store prices may vary.
Description
Initially commissioned to record the progress of Pittsburgh's Renaissance I, these unforgettable black-and-white photographs of Roy Stryker's Pittsburgh Photographic Library (PPL) capture the city in a state of flux. They reveal a union of opposites—the suited wonderment of the downtown businessman with the easy grace and competence of a shirtless construction worker balanced high over his head; the anonymity and isolation of planned housing with the belief in expansion and renewal; the energy and excitement of a city on the move with the traditions of the established elite; the juxtaposition between the growing optimism about the ability of technology to improve our lives; and the traditional steel and other heavy smokestack industries that still dominated the region. The Renaissance was seen as a way for Pittsburgh to keep abreast of modern urban life and to preserve its economic position, but the rapid development of a white suburban middle class was sapping the very essence of the personalized downtown neighborhoods. These photographers have captured the convergence of destruction and rejuvenation that is the essence of an urban renaissance—all the anxiety and hope of the decade is reflected in these poignant photographs.
Constance Schulz's fascinating essay on the story of the PPL,  in order to present a full picture of the political and civic goals, achievements, and failings of the project, provides a thorough discussion of the background of the Pittsburgh Photographic Library, putting into perspective the Allegheny Conference's purpose for initiating the PPL, Roy Stryker's own vision and work, as well as those of the photographers who worked for Stryker on the project, and the politics that undermined the full implementation of it. Clark M. Thomas's accompanying narrative offers an eclectic range of facts and fascinating bits of the city's history and neighborhood lore, as well as noting important political and economic episodes. It also provides a glimpse into the often underrepresented lives of minorities and women in the region's development. Anyone moved by the incredible social upheaval and expansion that occurred in cities across the nation in the 1950s following years of depression and war will want to have this collection.
Praise For Witness to the Fifties: The Pittsburgh Photographic Library, 1950–1953…
@font-face { font-family: "Times";}@font-face { font-family: "Cambria";}p.MsoNormal, li.MsoNormal, div.MsoNormal { margin: 0in 0in 0.0001pt; font-size: 12pt; font-family: "Times New Roman"; }div.Section1 { page: Section1; } @font-face { font-family: "Cambria";}p.MsoNormal, li.MsoNormal, div.MsoNormal { margin: 0in 0in 0.0001pt; font-size: 12pt; font-family: "Times New Roman"; }div.Section1 { page: Section1; }
"These photographs show a vanished world called Pittsburgh, a place unrecognizable to most of us today. Looking at these wonderfully composed images of crooked streets, raggedly dressed children, threadbare homes, sprawling mills, and the sunlight and shadows of a once-crowded Downtown, I was struck again and again at the diverse and fascinating character that shines through. . . . This is a finely made and sensitively composed book and a major contribution to Pittsburgh history."
—Pittsburgh Post-Gazette

"The PPL's unforgettable black-and-white photographs reveal a union of opposites---the paired wonderment of a downtown businessman with the easy grace of a shirtless construction worker balancing high above the city streets, and the anonymity and isolation of planned housing with the belief in expansion and renewal."
---Penn Heritage
"Witness to the Fifties is an intimate, engrossing, often moving portrait of Pittsburgh in the waning years of of its industrial glory. These images, shot by some of America's most talented  documentary photographers, reveal a city that existed not so long ago, but one that seems poignantly distant from the vantage point of the computer age."
--Dell Upton, Professor of Architectural History, University of California, Berkeley
or
Not Currently Available for Direct Purchase