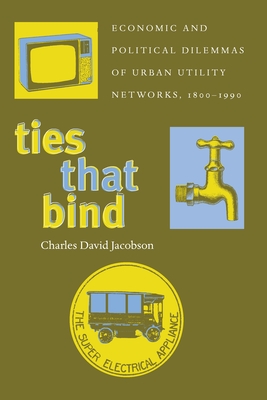 Ties That Bind (Paperback)
University of Pittsburgh Press, 9780822961475, 296pp.
Publication Date: January 28, 2001
Other Editions of This Title:
Hardcover (1/11/2001)
* Individual store prices may vary.
Description
In the early days of utility development, municipalities sought to shape the new systems in a variety of ways even as private firms struggled to retain control and fend off competition. In scope and consequence, some of the battles dwarfed the contemporary one between local jurisdictions and cable companies over broadband access to the Internet.
In this comparative historical study, Jacobson draws upon economic theory to shed light on relationships between technology, market forces, and problems of governance that have arisen in connection with different utility networks over the past two hundred years. He focuses on water, electric, and cable television utility networks and on experiences in four major American cities Boston, Seattle, San Francisco, and Pittsburgh, arguing that information and transactions costs have played decisive roles in determining how different ownership and regulatory arrangements have functioned in different situations.
Using primary sources and bold conceptualizations, Jacobson begins his study by examining the creation of centralized water systems in the first half of the nineteenth century, moves to the building of electric utilities from the 1880s to the 1980s, and concludes with an analysis of cable television franchising from the 1960s to the 1980s. "Ties That Bind" addresses highly practical questions of how to make ownership, regulatory, and contracting arrangements work better and also explores broader concerns about private monopoly and the role of government in society.
Praise For Ties That Bind…
"This book is a fascinating and important contribution to both urban history and regulatory economics. Interdisciplinary in both scope and method, it should interest scholars in economics, history, law, public policy, and urban studies."
—Werner Troesken, Hoover Institution, Stanford University, and University of Pittsburgh
"An impressive work of scholarship. Jacobson traces the development of utility networks in urban areas, specifically public water systems in the early 19th century, electric utilities from the 1880s through the 1980s, and cable television franchising from the 1960s through the 1980s. In particular, this study focuses on Boston, Seattle, San Francisco, and Pittsburgh. . . .  Of special interest is the discussion of how the blends of public and private ownership, as well as the regulatory structure, vary among water, electric, and cable systems. . . . Because of Jacobson's interdisciplinary approach, students, researchers, and practioners in the fields of economics, history, law, public policy, and technology will find much of interest in his volume."
—Choice
"Successfully weaves elements from economics, politics, technology, and ideology into a satisfying historical account of the regulation of three American service industries. . . . The book delivers on its promise to provide useful insights on regulatory policy until about 1990."
—Urban @ H-Net reviews
or
Not Currently Available for Direct Purchase