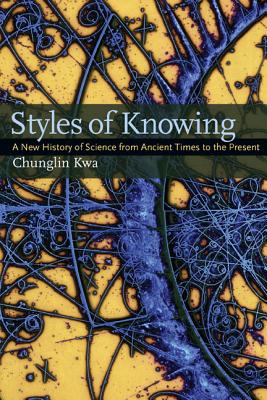 Styles of Knowing (Paperback)
A New History of Science from Ancient Times to the Present
University of Pittsburgh Press, 9780822961512, 376pp.
Publication Date: June 26, 2011
* Individual store prices may vary.
Description
Now available in English, Styles of Knowing explores the development of various scientific reasoning processes in cultural-historical context. Influenced by historian Alistair Crombie's Styles of Scientific Thinking in the European Tradition, Chunglin Kwa organizes his book according to six distinct styles: deductive, experimental, analytical-hypothetical, taxonomic, statistical, and evolutionary. Instead of featuring individual scientific disciplines in different chapters, each chapter explains the historical applications of each style's unique criterion for good science. Kwa shows also how styles have influenced each other and transformed over time. In a chapter written especially for American audiences, Kwa examines how changes in engineering and technology during the twentieth century affected the balance among the various styles of science.
      Based on extensive research in Greek and Latin primary sources and numerous modern secondary sources, Kwa demonstrates the heterogeneous nature of scientific discovery. This accessible and innovative introduction to scientific change provides a foundational history for the classroom, historians, and nonspecialists.
About the Author
Chunglin Kwa is lecturer in Science and Technology Studies at the University of Amsterdam. He teaches courses in history of science, philosophy of science, and on sustainable development in relation to the environmental sciences.  He served as editor of EASST Review from 1991 to 2006.
Praise For Styles of Knowing: A New History of Science from Ancient Times to the Present…
"Very  . . .  readable account of the history of scientific knowledge, it deserves a much wider audience than those who are able to understand the Dutch language."
—Isis, 2006 review of the original Dutch edition
 
"In an age and field dominated by micro-histories and fragmented by hyperprofessionalism this 'big picture' account is a welcome addition. . . . It is a longue duree history of science, offering the reader a well-structured and eminently readable narrative that calls attention to Crombie's styles project. The book will prove useful, inside and outside the classroom, to anyone interested in the (long) intellectual and cultural history of modern science, western knowledge, the scientific styles project, and the ways in which this understudied historiographical approach might illuminate the historical record." 
—Metascience
"A well-grounded and interdisciplinary account that should appeal to both novices and more advanced students . . . a refreshing account that will encourage reflection and discussion about styles of knowing through history, as well as their relevance in the present day. As a means of motivating interest in science, and its history and its cultural links, this book is highly recommended."
—Ambix
"This book will prove useful, inside and outside the classroom, to anyone interested in the (long) intellectual and cultural history of modern science, western knowledge, the scientific styles project, and the ways in which this understudied historiographical approach might illuminate the historical record."
—Springer Science+Business Media Dordrecht
"Extremely impressive in scope. The author draws on a vast array of primary and secondary literature. His discussion is stimulating and the style accessible . . . an illuminating framework and refreshing outlook through which to view the history of science."
—HOPOS: Journal of the International Society for the History of Philosophy of Science
"It is the wealth of detail that led me to label this book as a gem . . . Anyone reading this book will come away richer, more knowledgeable for the experience."
—History and Philosophy of the Life Sciences
"Kwa has written not only a fine introduction to the history of science from antiquity to the twenty-first century, but he has used the concept of 'style' to illuminate various modes of scientific rationality and current threats to freedom of inquiry. A most impressive achievement."
​—Harold J. Cook, Brown University