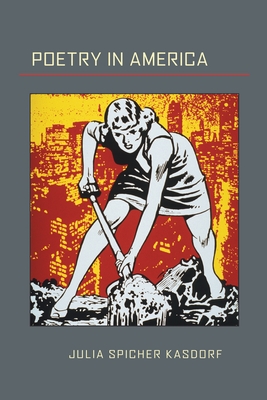 Poetry in America (Pitt Poetry Series) (Paperback)
University of Pittsburgh Press, 9780822961567, 88pp.
Publication Date: August 28, 2011
* Individual store prices may vary.
Description
Poetry in America offers extravagantly formed lyric and narrative poems that function like works of social realism for our times: hard times, wartime, divorce, times of downturn and dissipated resources. Where, in such times, can poetry emerge, the book asks—and answers—again and again. Largely set in rural places and small towns, these poems are politically committed but deeply sensuous, emotionally complex and compassionate. They take up the everyday in meaningful ways, and deliver it with blunt force, yet not without hope or bright humor.
 
About the Author
Julia Spicher Kasdorf is associate professor of English and women's studies at Pennsylvania State University. She is the author of two previous poetry collections: Eve's Striptease and Sleeping Preacher. Her poems have appeared in the New Yorker, Paris Review, and Poetry, as well as numerous anthologies, including the 2003 Pushcart collection. Kasdorf is also the author of The Body and the Book: Writing from a Mennonite Life and Fixing Tradition: Joseph W. Yoder, Amish American.
Praise For Poetry in America (Pitt Poetry Series)…
"I admire Julia Kasdorf's poems for their alert eye, attentive mind, vigilant heart, all fused into a single, sometimes painfully aware, vision of the world.  Bristling with narrative surfaces, angular emotional interiors, humorous sympathies, her poems move in careful zigzags, like a bat.  Her politically astute voice knows, understands, and without sentimentality embraces a universe of ordinary lives and unsung places—celebrating women's work, or her daughter's rapt in-taking of all that is new to her, or the nature of  'Poetry in America,' or the existential texture of Mennonite life, or simply 'sun flashing on a spider's thread, a blade of grass, / my own tanned skin.' Plainspoken, both intimate and discreet, these poems take hold."
—Eamon Grennan
 
"Poetry in America updates our aesthetic for a new millennium. Bursting with sagging night diapers, tattooed students with HIV, cardio kick boxing, instructions on how to open a clove of garlic, bleak poetry readings in megastores that somehow transcend their settings, and legions of everyday female heroes, Kasdorf shows us how our poetry has opened its doors over the past few decades to admit the visions and voices of all kinds of Americans and their poetic testimonies.  This collection is inspiring and fearless."
—Kate Daniels
"Those who have the courage to delve into 'Poetry in America' will be richly rewarded by its beauty, depth and emotional resonance. The collection may be rooted in loss, but its poems offer readers the warmth and honesty of an intimate encounter."
—Voices of Central Pennsylvania
"Poetry may not be popular in America, but for its advocates, Kasdorf's collection of poems will ensure continuing devotion."
—Women's Review of Books
"'Poetry in America' demonstrates a commitment to the lyric narrative form Kasdorf has chosen for her previous books, and its craft is strong as tempered steel. . . . [It] continues to cultivated lived experience in often rocky terrain, as the poet offers a rereading of cultural narratives and reaffirms the arduous labor of wrestling meaning from everyday sorrows 'striking as death / and common as dirt.'"
—The Mennonite Quarterly Review
"Sounds every note on the scale of tones, forms, and intensities. There are notes of toughness and tenderness, notes of witness and experience--all the notes, to my ear, in tune."
—PoemoftheWeek.org
or
Not Currently Available for Direct Purchase