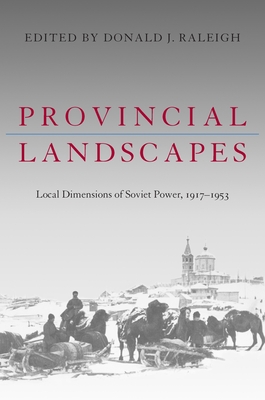 Provincial Landscapes
Local Dimensions of Soviet Power, 1917-1953 (Pitt Series in Russian and East European Studies)
Paperback

* Individual store prices may vary.
Other Editions of This Title:
Hardcover (9/27/2001)
Description
The closed nature of the Soviet Union, combined with the West's intellectual paradigm of Communist totalitarianism prior to the 1970s, have led to a one-dimensional view of Soviet history, both in Russia and the West. The opening of former Soviet archives allows historians to explore a broad array of critical issues at the local level. Provincial Landscapes is the first publication to begin filling this enormous gap in scholarship on the Soviet Union, pointing the way to additional work that will certainly force major reevaluations of the nation's history.
Focusing on the years between the Revolution and Stalin's death, the contributors to this volume address a variety of topics, including how political events and social engineering played themselves out at the local level; the construction of Bolshevik identities, including class, gender, ethnicity, and place; the Soviet cultural project; and the hybridization of Soviet cultural forms. In showing how the local is related to the larger society, the essays decenter standard narratives of Soviet history, enrich the understanding of major events and turning points in that history, and provide a context for the highly visible socio-political and cultural role individual Russian provinces began to play after the breakup of the Soviet Union.
Praise For Provincial Landscapes: Local Dimensions of Soviet Power, 1917-1953 (Pitt Series in Russian and East European Studies)…
"It is impossible within the framework of a book review to describe, much less, engage, the many insights and ideas raised by the essays in this volume. By looking at important chapters of [Russia's] history from a local perspective, we often can see important issues and developments more clearly than from the perspective of the capital, where 'high politics' gets mixed in and sometimes muddies the water. This book provides many such insights and will repay careful reading by a range of scholars."—American Historical Review   


"Provincial Landscapes is the first book published in the west devoted to offering regional narratives of the Soviet historical expeience. . . . It provides a fascinating glimpse of the fluctuating balance of relations between the periphery and the center in the Soviet Union from the revolution to the end of the Stalin era."
—Slavic Review           
"Aside from its general interest to students of Soviet history, this compilation should also be fascinating to those concerned with the purpose and execution of local history, particularly urban-rural relations. . . . an important contribution to the field of local history . . . essential reading for Sovietologists seeking an alternative from central, urban, national history."
--Australian Slavonic and East European Studies
University of Pittsburgh Press, 9780822961581, 407pp.
Publication Date: September 12, 2011