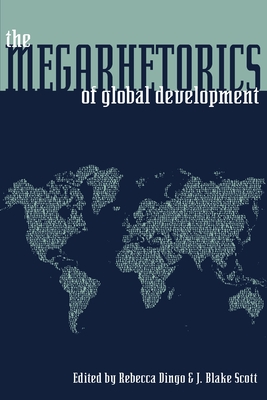 The Megarhetorics of Global Development (Composition, Literacy, and Culture) (Paperback)
University of Pittsburgh Press, 9780822961727, 280pp.
Publication Date: January 20, 2012
* Individual store prices may vary.
Description
After World War II, an unprecedented age of global development began. The formation of the World Bank and the International Monetary Fund allowed war torn and poverty stricken nations to become willing debtors in their desire to entice Western investment and trade. New capital, it was foretold, would pave the way to political and economic stability, and the benefits would "trickle down" to even the poorest citizens. The hyperbole of this neocolonialism, however, has left many of these countries with nothing but compounded debt and unfulfilled promises.
       The Megarhetorics of Global Development examines rhetorical strategies used by multinational corporations, NGOs, governments, banks, and others to further their own economic, political, or technological agendas. These wide-ranging case studies employ rhetorical theory, globalization scholarship, and analysis of cultural and historical dynamics to offer in-depth critiques of development practices and their material effects. By deconstructing megarhetorics, at both the local and global level, and following their paths of mobilization and diffusion, the concepts of "progress" and "growth" can be reevaluated, with the end goal of encouraging self-sustaining and ethical outcomes.
About the Author
Rebecca Dingo is assistant professor of English and women's and gender studies at the University of Missouri. She is the author of Networking Arguments: Rhetoric, Transnational Feminism, and Public Policy Writing.
J. Blake Scott is associate professor of writing and rhetoric at the University of Central Florida. He is the author of Risky Rhetoric: AIDS and the Cultural Practices of HIV Testing, coeditor of Critical Power Tools: Technical Communication and Cultural Studies, and winner of the 2007 NCTE Award for Best Collection of Essays on Technical and Scientific Communication.
Praise For The Megarhetorics of Global Development (Composition, Literacy, and Culture)…
"A progressive and substantial contribution to scholarship in rhetorical studies, The Megarhetorics of Global Development is an analysis of the discourse of global development—'development' in the broadest sense of the term: economic and technological as well as cultural and geopolitical. The chapters in this collection examine the effects and material consequences of the megarhetorics of development as well as the discourse that rhetors and others employ to structure arguments for (and sometimes against) development projects. This is an outstanding contribution to rhetorical studies, and I strongly recommend it to students and scholars of rhetoric. It is likely to open up whole new paths of investigation for future scholars."
—Gary A. Olson, Idaho State University
"This edited volume comes on the scene with a sense of urgency. Through hard-hitting, lucid, yet carefully textured analyses, the authors of these impressive chapters explore rhetoric and economy in development policy, the advertising of multinationals, NGO appeals, documentary filmmaking, and many more sites. Readers will find here provocative critique as well as openings for resistance and creative possibility in the world of transnational capitalism."
—Susan C. Jarratt, University of California, Irvine
or
Not Currently Available for Direct Purchase