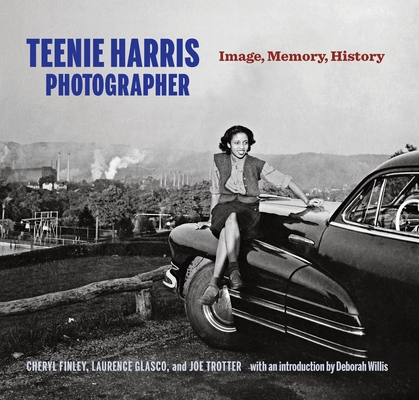 Teenie Harris, Photographer (Paperback)
Image, Memory, History
University of Pittsburgh Press, 9780822961741, 208pp.
Publication Date: October 17, 2011
Other Editions of This Title:
Hardcover (10/28/2011)
* Individual store prices may vary.
Description
Published in cooperation with Carnegie Museum of Art
With an introduction by Deborah Willis

The famous faces of Lena Horne, Louis Armstrong, Josephine Baker, Muhammad Ali, Jackie Robinson, and John F. Kennedy appear among the nearly eighty thousand photographs of Charles "Teenie" Harris (1908–1998). But it's in the images of other, ordinary people and neighborhoods that Harris shows us a city and an era teeming with energy, culture, friendship, and family. In jazz clubs, Little League games, beauty contests, church functions, boxing matches, political events, protest marches, and everyday scenes, Teenie Harris captured the essence of African American life in Pittsburgh.
Harris's career began as America emerged from the Great Depression and ended after the civil rights movement. As a photographer for the Pittsburgh Courier, one of the nation's most influential black newspapers, Teenie hit the streets to record historic events and the people who lived them. The archive of Harris's photography, part of the permanent collection of Carnegie Museum of Art, represents one of the most important documentations of twentieth-century African Americans and their communities. Today, even as Teenie Harris's photography stands alongside that of Harlem's famed James VanDerZee, his work in Pittsburgh's Hill District surpasses that of all other photographers in its breadth and rich portrayal of black urban America.
About the Author
Cheryl Finley is assistant professor of art history at Cornell University. She is coauthor of Imaging African Art: Documentation and Transformation.
Laurence Glasco is associate professor of history at the University of Pittsburgh. He is the author of Ethnicity and Social Structure: Irish, Germans, and Native-Born of Buffalo, N.Y., 1850–1860 and editor of The WPA History of the Negro in Pittsburgh.
Joe W. Trotter is Giant Eagle Professor of History and Social Justice at Carnegie Mellon University. He is the author, coauthor, or editor of numerous books, including The African American Urban Experience: From the Colonial Era to the Present and Race and Renaissance: African Americans in Pittsburgh since World War II.
Praise For Teenie Harris, Photographer: Image, Memory, History…
"The amazing Charles 'Teenie' Harris'  archive chronicles nothing less than the dazzling impact of African American life on the 20th century. In 60 years of work from the photo studio to the music hall, and in images of black news culture from Flash magazine to the Pittsburgh Courier, these pictures are resolutely modern and frame the everyday as details of the extraordinary. A lifelong resident of Pittsburgh, Harris showed us how people and place mattered. His creative eye chronicled a vibrant black community, from its early days as a destination for migrants to its crucial civil rights and black power activism. Harris' photos ultimately tell the story of the heritage of modern black migrations and the world they made. He recovers the cultural effluence and influence of industrial life in the Steel City and joins artist Romare Bearden and playwright August Wilson in shedding light on the unexpected, significant, and joyous details of our urban beauty."
—Kellie Jones, Columbia University
"A beautiful book . . . striking black and white reproductions . . . makes a strong case for Charles 'Teenie' Harris's importance within the history of photography."
—Biography
"The three engaging essays in 'Teenie Harris' present an entire era and history, interweaving the political and social issues of those decades with the evolution of journalistic photography and its techniques."
--On the Seawall