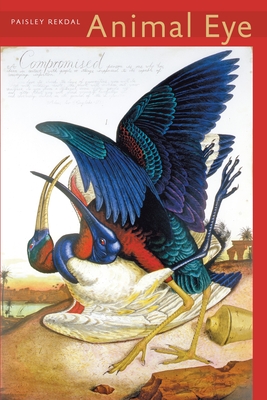 Animal Eye (Pitt Poetry Series)
Paperback

* Individual store prices may vary.
Description
Voted one of the five best poetry collections for 2012 by Publishers Weekly, Animal Eye employs pastoral motifs to engage a discourse on life and love, as Coal Hill Review states "It is as if a scientist is at work in the basement of the museum of natural history, building a diorama of an entire ecosystem via words. She seem snot only interested in using the natural world as a metaphoric lens in her poems but is set on building them item by item into natural worlds themselves."
Praise For Animal Eye (Pitt Poetry Series)…
"Rekdal's fourth collection is relentlessly heartbreaking and intense, but also full of the pleasures of closely observed detail and imagination given free rein."
—Publishers Weekly
"Paisley Rekdal's quiet virtuosity with rhyme and cadence, her syntactic fidelity to thought and sensation, her analytical intelligence that keeps homing in and in, her ambitious sentences and larger formal structures that try to embody with absolute accuracy the difference between what we ought to feel and what we really do feel—all these make her unique in her generation: no one sounds like she does, and her concern about the 'post' in postconfessional is as much a sign of her earnest desire to honor every aspect of her art, as it is an anxiety that spurs her restless investigations of family, selfhood, racial identity, and erotic life."
—Tom Sleigh
"There's an old notion that the eye emits light and this light seizes the objects we see. I thought of this while reading Paisley Rekdal's wonderful new book. She has a meditative bent—itself a kind of light sent out to the world—and as with most poets who dwell, who mull over, her poems convey a deep sense of compassion and joy, another kind of light. 'Can I have more / of this, would it be possible / for every day to be a greater awakening,' she asks in one poem, a question this book beautifully and affirmatively answers."
—Bob Hicok
"In Animal Eye, once again, we come to this single realization: Paisley Rekdal's gifts as poet and intellectual are intractable and manifold. With all of their rhetorical pleasures and illustrative rhythms, Rekdal's poems are deeply marked by a sensate, near terrestrial, relationship to language such that she refreshes and renews debates about beauty, suffering, and art for the twenty-first-century reader."
—Major Jackson
"A book built on pleasure, a convincingly, if subtly, joyous engagement with a world where 'there is so little distinction . . . / between beauty, violence, utility.'  . . . In acknowledging the disappointing facts of our existence and singing her way into its amazement, she has created poetry that lives alongside the misery we sometimes witness—and sometimes cause."
—SlateMagazine
"Lush . . . filled with dreams but not normal dreams—ones that creep out of the skull and remain deep in the carpet until their seeds bloom into actuality . . . This book is necessary: it is a step in a more consummate direction of contemporary poetry that openly acknowledges the debt poetry has to fiction yet also the multiple debts it has to its naturalistic past."
—Coal Hill Review
"The perspectives from which 'Animal Eye' is written may not be pretty. But they are convincing, and they are rendered with an unflinching eye for detail that arguably makes this book Rekdal's best to date."
—West Branch
"Read 'Animal Eye.' It is glorious."
—-Synecdoche
University of Pittsburgh Press, 9780822961796, 96pp.
Publication Date: February 26, 2012
About the Author
Paisley Rekdal is associate professor of English at the University of Utah. She is the author of three previous poetry collections: The Invention of the Kaleidoscope, A Crash of Rhinos, and Six Girls Without Pants, as well as a book of essays, The Night My Mother Met Bruce Lee. She is the recipient of the Village Voice Writers on the Verge Award, the University of Georgia Press Contemporary Poetry Series Award, an NEA Fellowship, a Fulbright Fellowship, the Laurence Goldstein Poetry Prize from Michigan Quarterly Review, and the 2011–2012 Amy Lowell Poetry Traveling Scholarship.