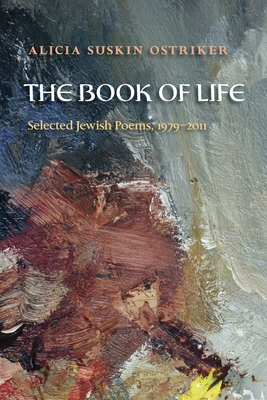 The Book of Life (Paperback)
Selected Jewish Poems, 1979–2011 (Pitt Poetry Series)
University of Pittsburgh Press, 9780822961819, 112pp.
Publication Date: January 15, 2012
* Individual store prices may vary.
Description
"Poet Alicia Ostriker is also a highly original scholar/teacher of midrash, the commentary and exegesis of scripture  (the same root as madrasa, place of study). Here she 'studies' Jewish history, Jewish passion, Jewish contradictions, in a compendium of learned, crafted, earthy and outward-looking poems that show how this quest has informed and enriched her whole poet's trajectory."
—Marilyn Hacker
About the Author
Alicia Suskin Ostriker is one of America's premier visionary poets and critics.  She is the author of fourteen poetry collections, including The Book of Seventy; The Mother/Child Papers; No Heaven; the volcano sequence; and The Little Space: Poems Selected and New, 1968–1998, as well as several books on the Bible.  She has received the Paterson Poetry Prize, the William Carlos Williams Award, the San Francisco State Poetry Center Award, the National Jewish Book Award, and has twice been a finalist for the National Book Award. Ostriker is Professor Emerita of English at Rutgers University and teaches in the low-residency MFA program of Drew University.
Praise For The Book of Life: Selected Jewish Poems, 1979–2011 (Pitt Poetry Series)…
"Poet Alicia Ostriker is also a highly original scholar/teacher of midrash, the commentary and exegesis of scripture  (the same root as madrasa, place of study). Here she 'studies' Jewish history, Jewish passion, Jewish contradictions, in a compendium of learned, crafted, earthy and outward-looking poems that show how this quest has informed and enriched her whole poet's trajectory."
—Marilyn Hacker
"A Song of Songs, which is not Solomon's but Alicia Ostriker's. A great age-old hymn to life, to flesh, to memory, is revised again on these pages, with gusto, with passion, with clarity, with eros, with grief. If there is God, it is the mourner's or the mystic's God; if there is faith, it is the faith in our future. This is gorgeous poetry, as Jewish as it is universal."
—Ilya Kaminsky
"A milestone volume that readers of Jewish poetry will reference, and revel in, for years to come. While Ostriker's contribution to the poetry world in the past decades has been invaluable, her contribution to the realm of Jewish poetry specifically has been absolutely formative. Her experiments with Midrashic poetry, riffs on Psalms, liturgy, usage of these sources to explore personal questions of faith, gender, and family are simply tremendous."
—The Forward
"[A] wonderful collection . . . The poems in 'The Book of Life' may be familiar to her regular readers, having been published in other collections, but the selection in this volume strikes a rich and resonant chord, simultaneously and inextricably female and feminist, Jewish and American."
—Women's Review of Books
"In the preface . . . Ostriker refers to 'the umbilicus of hope.' She has a knack for such unexpected and powerful turns of phrase, and said cord stretches across this book."
—Jewish Book World
"Reads like a collection of memories tinged with Scripture, song, and allusion. . . An assortment of powerful moments that make the whole a worthwhile read. . . 'The Book of Life' conveys the strength and endurance of its writer, of her tradition, and of the relentless hope and bafflement of which she is an heir."
—Pleiades