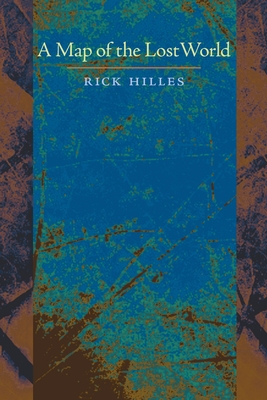 A Map of the Lost World (Pitt Poetry Series) (Paperback)
University of Pittsburgh Press, 9780822961826, 96pp.
Publication Date: January 30, 2012
* Individual store prices may vary.
Description
The poems that make up A Map of the Lost World range from tightly-wrought shorter lyrics to longer autobiographical narratives to patterns of homage (in several forms) of poets that Hilles admires and emulates (including Richard Hugo, James Wright, James Merrill and Larry Levis) to extended voice-driven meditations, one in the voice of a German Jewish woman, a prisoner who would escape a French concentration camp and go on to fight in the French resistance, to other efforts to confront history and not be devoured by history, and to locate, even resuscitate, friends lost to death, if only provisionally; though each poem in A Map of the Lost World is highly crafted and diversely rendered, in this collection, each poem finds its unifying impulse in it's maker's desire to span vast distances to reach loved ones, beloved others, the various families of friends, fueled by an almost gymnastic imagination that vaults itself into almost any space—going to almost any length—sustained by the various forms of love, which, after all, may be as close as any of us has come (in this or any life) to knowing and warming ourselves, if not also at times being scalded by, the immortal fires of the Infinite.
About the Author
Rick Hilles, associate professor of English at Vanderbilt University, is the author of the poetry collections, Brother Salvage, winner of the 2005 Agnes Lynch Starrett Poetry Prize and the 2006 Foreword Poetry Book of the Year, and A Map of the Lost World, a finalist for the Ohioana Book Award. He has been the recipient of a Whiting Award, the Amy Lowell Poetry Traveling Scholarship, and a Camargo Fellowship. He lives in Nashville.
Praise For A Map of the Lost World (Pitt Poetry Series)…
"Always a poet of authentic promise, with A Map of the Lost World Rick Hilles emerges into an importance that may rival such poets as Henri Cole and Rosanna Warren. I find it immensely moving that he evokes dead poets for whom I cared personally as well as critically, including James Wright and James Merrill. Beyond that he adds what may be a new dimension to our poetry by evoking the shade of Walter Benjamin and with it the tragedy of European Jewry. I emerge from this book somber yet fortified because like Kafka it reminds us of a kind of indestructibility of the human spirit."
—Harold Bloom
"When John Keats described negative capability he could have added that it included the ability to enter and inhabit the lives of others. This form of empathy, usually the gift of the dramatist and the novelist, reveals itself throughout Rick Hilles's poetry, and especially in A Map of the Lost World. Whether he speaks as or about one of the poets he admires, older friends who have survived the Holocaust, strangers met in a city, acquaintances hunting mushrooms near Auschwitz, or a German member of the French resistance, he convinces us that he knows what it is to be these people. Seamlessly, with a sense of nuance and subtlety that are all his own, he re-creates their lives as though he might have lived them."
—Mark Jarman
"A Map of the Lost World is an important book, combining history with lyric gravity. Rick Hilles writes of modern life in language that is beautiful and magical, having an intensity that compels as it startles. In poems of World War II ("A Map of The Lost World" and "The Red Scarf & The Black Briefcase"), we read of an American's search for self as well as for the fate of Auschwitz prisoners. By turns Hilles thrills, excites, intrigues, and terrifies, as he finds in the past insights into the world around him and presents a landscape 'full of secrets only some of them benign.'"
—Grace Schulman
"Rick Hilles should be commended for taking on the large and risky task of writing poems on various cultures and their political histories in this book. From the Holocaust to ancient Egyptian mysteries to the work of Paul Eluard, Hilles approaches complex dimensions of history in highly crafted and brilliant poems. He is successful because he gives himself the lyrical room and forms to succeed. Each poem is different, is structured in challenging ways, and resonates with the skill and talent of a young poet coming into his own and bringing the world with him."
—Ray Gonzalez, Bloomsbury Review on Brother Salvage

"Like John Keats, who is in many ways the presiding spirit of this exquisitely true and beautiful gathering of poems, Rick Hilles is a poet with genuine authority, licensed to lead us to the lost world where great poets, dear friends and righteous survivors pay tribute to what it means to be human, to love and bear witness even beyond death. This is a truly wonderful book."
—Lorna Goodison
"The great strength of the collection, beyond its thematic gravity and masterful architecture, is its extraordinary writing. A reader can get lost in these poems, traveling between worlds, thinking and feeling what was previously unthinkable, unfelt. The sense they convey of inevitability makes it easy to forget that the lines have actually been composed, that someone sat down and wrote them."
—Chapter 16
"...Line after surprising line is suffused with humanity and detail, and he just has a way with phrasing that makes it feel like something inside you just snapped — and you're not sure yet if it snapped into place or out of it. A Vanderbilt professor, Hilles won many accolades for his debut, Brother Salvage, and he'll likely collect more for its follow-up, A Map of the Lost World."
—The Nashville Scene (Starred Review, Critics' Pick)
"Complex and symphonic, with sections and movements that unfold slowly and inform each other, the poems in Rick Hilles' lovely second collection examine the nature of memory and the trials of coming to grips with the past. Many of the poems are narrative-based—story-like, plotted and wonderfully compelling. . . . Whether sifting through his own memories or channeling the voices of the past, Hilles composes poems that, ultimately, honor history and the personal stories that lie behind it."
—BookPage
or
Not Currently Available for Direct Purchase