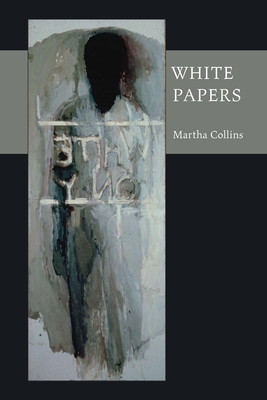 White Papers (Pitt Poetry Series)
Paperback

* Individual store prices may vary.
Description
White Papers is a series of untitled poems that deal with issues of race from a number of personal, historical, and cultural perspectives. Expanding the territory of her 2006 book Blue Front, which focused on a lynching her father witnessed as a child, this book turns, among other things, to Martha Collins' childhood. Throughout, it explores questions about what it means to be white, not only in the poet's life, but also in our culture and history, even our pre-history. The styles and forms are varied, as are the approaches; some of the poems address race only implicitly, and the book, like Blue Front, includes some documentary and "found" material. But the focus is always on getting at what it has meant and what it means to be white—to have a race and racial history, much of which one would prefer to forget, if one is white, but all of which is essential to remember and to acknowledge in a multi-racial society that continues to live under the influence of its deeply racist past.
Praise For White Papers (Pitt Poetry Series)…
"This tightly focused, strongly argued book-length sequence uncovers a personal, regional, cultural, and institutional history of whiteness and white privilege: its clipped quatrains, spare recollections, and embedded citations give the rare and valuable show of a white author reflecting on the meanings and the oddities of race. Collins's Blue Front (2006) told stories of an Illinois lynching, and this volume clearly grew out of that one; but she here deploys a range of forms, visual as well as aural, and a range of effects, from a hammering self-reflection ("could get a credit card loan car/ come and go without a never had/ to think about") to ironic collage. Race is not only nor always black and white: "the natives of southern New England," Collins notes, were "our first them." But black and white and their intertwined asymmetries rule this serious collection. Puns on color introduce musings on minstrelsy; recollections of Collins's not quite all-white Iowa childhood stand besides pictures of unacknowledged bigotry. Some readers and cultural critics may object that Collins has simply put familiar arguments into verse; the same readers might, instead, admire how much of herself, and of her sense of form, Collins brings in."
—Publishers Weekly
"Collins continues the inquiry into race that shaped Blue Front (2006) here, in this startling and provocative collection, exploring the motif and myth of racial "whiteness." She writes, "history leaves us nothing / but not: like children playing at being / something, we made, we keep / making our whiteness up." The imaginary quality of whiteness reveals itself as a childlike fantasy as Collins evokes its abstract quality. Collins' flair for metaphor is evident when she shifts from "five white baby dresses" to "Gray framed faces in white / Black faces in negative / Shadows in the sidewalk's gray mirror." The movement form soft white baby dresses to the harsh concrete of the sidewalk seems to be a movement from comforting to cold. The fact that she has outgrown the baby dresses also indicates a movement from the stark world of black and white into the more hazy world of gray. Within the stark chromatic scale of black, white, and gray, Collins evokes a dazzling spectrum of palpable emotions, racial tensions, and unraveling binaries."
—Booklist
"White Papers is a praise song for the truth. It bravely pulls back the covers of whiteness to offer us precious views of racial privilege. Martha Collins has laid bare the more complex dangers of America's central trauma in a book of innovative craft and startling honesty. The rhythmic tapestry of this remarkable work helps open the door to a healing that is long overdue. Let this praise song be praised."
—Afaa Michael Weaver
"The path of Martha Collins' work—selflessly risky, formally innovative, profoundly social—has always been leading to White Papers. These fierce, beautiful poems not only confront the illimitable issue of 'whiteness' itself, they are a breakthrough in the conversation we, with our fractured thinking about race, have yet to have. They defy the silences and insist nothing is unspeakable ."
—Gail Mazur
"White Papers is that difficult beginning, the one beneath traditional poetic confessions of written whiteness. Martha Collins transforms the history of America's troubled racial roots and, most importantly, her own into a slide show of non-capitalized flesh. This book is the one we knew was out there but had rarely read. It is an honest and powerful half-portrait, leaning into its own brave profile."
—Thomas Sayers Ellis
"Collins' newest book of poems is doing what no other book of poems is doing right now—talking about race from a White first-person perspective. . . . There is a good deal of guilt in this collection. . . . The sense of apology is palpable. But what sets this book apart and shakes it loose from the siren-call of the sentimental is its experimental form: forty-five untitled narrative lyrics, often spare and restrained, and often playing with "white" space on the page . . . Collins' mastery here lies in her great skill at creating a new vehicle for expressing what a whole generation of poets has quietly felt."
—Mead Magazine
"Deeply personal and rich with discovery and inquiry and has a feeling of collage—the poems are untitled, greatly varied in shapes and sonics, and run from embodied interiorities to modes of reporti ng both big and small . . . A remarkable book, a wholly unified work—a book rather than a collection—whose object lesson is one of UNDIVIDING."
—The Literary Review
"Collins is on a quest, a journey to unearth and destroy the racist foundation of her Caucasian heritage. . . . Her refutation of racial privilege, her knowledge, awareness, and rejection of its history and continued effect on both personal and societal attitudes, is likely the best anyone can hope for at this time."
—Valparaiso Review
University of Pittsburgh Press, 9780822961840, 80pp.
Publication Date: January 15, 2012
About the Author
Martha Collins is the author of several poetry collections, including the book-length poem Blue Front, winner of the Anisfield-Wolf Book Award and chosen as one of "25 Books to Remember from 2006" by the New York Public Library. Her other awards include fellowships from the NEA, the Bunting Institute, the Ingram Merrill Foundation, and the Witter Bynner Foundation. She is also the recipient of three Pushcart Prizes, the Alice Fay Di Castagnola Award, and a Lannan residency grant. Collins founded the Creative Writing Program at UMass-Boston and for ten years was Pauline Delaney Professor of Creative Writing at Oberlin College. She is currently editor-at-large for FIELD magazine and an editor for Oberlin College Press.
or
Not Currently Available for Direct Purchase