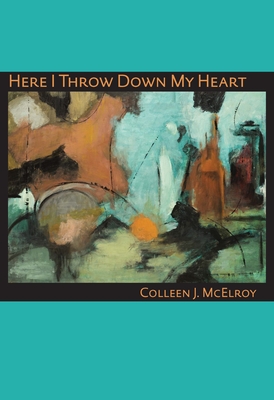 Here I Throw Down My Heart (Pitt Poetry Series) (Paperback)
University of Pittsburgh Press, 9780822962052, 112pp.
Publication Date: October 28, 2012
* Individual store prices may vary.
Description
The poems in Here I Throw Down My Heart prompt readers to see beyond the surface of images, whether that surface is a uniform, a prescribed setting, a familiar geography, or the surface that evokes the most social commentary, skin—the body itself. The modern world moves at a greater speed than the world of a few generations ago, so we look for ways to sort our likes and dislikes, to set our comfort zones. These poems say: "don't believe everything you see, look again." The poems look at how borders between countries, or between genders and class have deepened the lines between the haves and have-nots. While everyone is on a collision course for lack of food and water, those dividing lines seem more impenetrable than ever, underscoring the disparity between gender, race, and class.

About the Author
Colleen J. McElroy is professor emeritus of English and creative writing at the University of Washington. She is the former editor in chief of the literary magazine Seattle Review and has published nine poetry collections, most recently Sleeping with the Moon, for which she received a 2008 PEN/Oakland National Literary Award. Her latest collections of creative nonfiction include A Long Way from St. Louie and Over the Lip of the World: Among the Storytellers of Madagascar, which was a finalist in the 2000 PEN USA Research-based Creative Nonfiction category. She has received the Before Columbus American Book Award, two Fulbright Research Fellowships, two NEA Fellowships (in both fiction and poetry), a DuPont Visiting Scholar Fellowship, and a Rockefeller Fellowship.

Praise For Here I Throw Down My Heart (Pitt Poetry Series)…
"The always smart and effective poetry of Colleen McElroy becomes seductive in Here I Throw Down My Heart. On topics from marriage to the military to ageing, McElroy's poems are film noir voodoo magic."
—Diane Wakoski
"Here I Throw Down My Heart is amazing. . . . I'm especially drawn to the [women] warrior poems. That series is magnificent in its tearless awfulness with that note of sweet, appalled regret at the end. One of McElroy's very best, I think. Having just read about women in combat in the New York Times recently . . . these poems yanked every sad nerve. Kafka says art should mangle us, and McElroy has done it."
—Valerie Trueblood
"'We will cross where the borders are porous.' In McElroy's Here I Throw Down My Heart, meaning beats a tattoo in four distinct chambers, adding up, magically, to pure connection. Slavery's echo in modern times, what it means to be a woman in battle, hunger and greed, and a paradise up for grabs . . . 'if our purse is fat enough.' These are significant poems that address our complex human condition, in language that illuminates with frankness and beauty."
—Katherine Hastings
"In these poems, Colleen McElroy faces loss that is punishingly never final, that is alive to be lost every haunted moment of the present and promises the hurt of tomorrow more certainly than it can even promise a tomorrow. Yet love would have it this way just yet rather than finally not at all, and her voice remains—even if blues tired—ultimately as smart-mouth and straightforward as ever. Her vision and observation made clearer by the enduring strength of honest attention. Most importantly, these poems reveal that McElroy has not at all been drained of her great compassion; we see it extended into other routes her background might have taken her. Few have spoken of the price women of today's armed services pay in their increased involvement in the work of war. McElroy, a confessed Army Brat, can talk of the double-edged losses here also. These women, in a sense, are also her children. This is a broad cut swath of a book. It lays wide open a lot of our complacencies."
—Charles Roberson
Praise for McElroy's earlier work:
"Each place lives a thriving and illuminated existence through McElroy's mastery of language.  This mastery is evident not only in the literary aspects of the poems, but also in the music sounding behind the language."
—Genevieve Lebaron

Praise for McElroy's earlier work:
"Sleeping with the Moon is a voyage, a map of images that captures what we humans do to survive with grace. The revelations unfold one after the other, enlarging this needful journey, each poem caught in its profound imagery and poignant singing, until we become suspended in a music that enlightens."
—Yusef Komunyakaa
"This poetry works . . . [McElroy] writes on subjects that could easily devolve into cliche by a lesser poet . . . What makes these poems challenging is not some gratuitous surface difficulty—convolunted syntax, obscure diction, tenuous allusions that create amusing verbal puzzles, but that lead us farther from rather than nearer to the physical world. No, the challenge in 'Here I Throw Down My Heart' is to the ways we have been conditioned to see (and thus not see)."
—The Seattle Times
"This book is fearless, brilliant, explosive, tough."
—Synecdoche
or
Not Currently Available for Direct Purchase