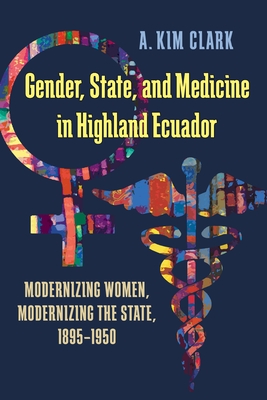 Gender, State, and Medicine in Highland Ecuador
Modernizing Women, Modernizing the State, 1895-1950 (Pitt Latin American Series)
Paperback

* Individual store prices may vary.
Description
In 1921 Matilde Hidalgo became the first woman physician to graduate from the Universidad Central in Quito, Ecuador. Hidalgo was also the first woman to vote in a national election and the first to hold public office.

Author Kim Clark relates the stories of Matilde Hidalgo and other women who successfully challenged newly instituted Ecuadorian state programs in the wake of the Liberal Revolution of 1895. New laws, while they did not specifically outline women's rights, left loopholes wherein women could contest entry into education systems and certain professions and vote in elections. As Clark demonstrates, many of those who seized these opportunities were unattached women who were socially and economically disenfranchised.

Political and social changes during the liberal period drew new groups into the workforce. Women found novel opportunities to pursue professions where they did not compete directly with men. Training women for work meant expanding secular education systems and normal schools. Healthcare initiatives were also introduced that employed and targeted women to reduce infant mortality, eradicate venereal diseases, and regulate prostitution.

Many of these state programs attempted to control women's behavior under the guise of morality and honor. Yet highland Ecuadorian women used them to better their lives and to gain professional training, health care, employment, and political rights. As they engaged state programs and used them for their own purposes, these women became modernizers and agents of change, winning freedoms for themselves and future generations.



Praise For Gender, State, and Medicine in Highland Ecuador: Modernizing Women, Modernizing the State, 1895-1950 (Pitt Latin American Series)…
"By examining policies and institutions that focused on reproduction, sexuality, and medicine, Clark exposes the gendered relations at the nodes where political and social reforms reframed private behaviors as public concerns. Writing with sympathy for and insight into the lives of the historical actors peopling the book's rich social landscape, Clark makes a valuable contribution to Andean gender history."
—Ann S. Blum, University of Massachusetts, Boston
"Kim Clark offers a deeply grounded, nuanced study of state modernization in postcolonial Ecuador. By addressing how women have been both objects and agents of Ecuador's modernization project, and by revealing the emancipatory appeal as well as the contradictions of state programs that target women, Clark presents us with one of the richest historical analyses of state formation and its gendered articulations in Ecuadorian and Latin American studies to date."
—Amy Lind, University of Cincinnati
"[An] excellent study . . . Clark's analysis is dedicated to exploring the lives of those women who had the nerve to breach the social conventions and the weight of conservative social norms that limited their professional choices."
—Latin American Perspectives
"Clark demonstrates in this important contribution that gendered social policy in Ecuador, as elsewhere in Latin America, was a process that both reflected and shaped the country's cultural formation."
—Journal of Interdisciplinary History
"By discussing Ecuadorian women's experiences in the field of medical education, Clark's intervention helps us understand the country's history from an innovative gendered perspective. . . . Given the fact that the book talks mainly about Quito, the country's capital, and mentions indigenous and Afro-Ecuadorian women only marginally, her effort to portray the lives of non-elite women and their role as state agents and medical professionals constitutes a significant advance not only for Ecuadorian historiography, but also for the literature on gender history in the Andean region."
—Journal of Latin American Studies
University of Pittsburgh Press, 9780822962090, 272pp.
Publication Date: August 19, 2012
About the Author
A. Kim Clark is associate professor of anthropology at the University of Western Ontario. She is the author of The Redemptive Work: Railway and Nation in Ecuador, 1895–1930 and coeditor of Highland Indians and the State in Modern Ecuador.