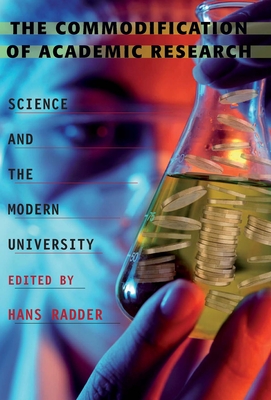 The Commodification of Academic Research
Science and the Modern University
Paperback

* Individual store prices may vary.
Other Editions of This Title:
Hardcover (9/5/2010)
Praise For The Commodification of Academic Research: Science and the Modern University…
"With this pioneering volume, Hans Radder has turned the commodification of research into an issue for the philosophy of science. The contributors present a broad range of views, united by the fact that they take commodification as both a practical problem and a theoretical one. This provocative book will lead us to reevaluate our thinking about the norms of science and how they should relate to new economies of knowledge."
—Sergio Sismondo, Queen's University
"The threat to academic culture by commodification is a hot and controversial topic, and publications addressing it abound. This carefully crafted collection reaches beyond many of them by bringing together a broad variety of perspectives—sociological, ethical, historical and philosophical—probing the issue with scholarly detachment, scientific rigor, and passion for the culture of public science."
—Peter Weingart, Universität Bielefeld
"This volume offers a very balanced, thorough, accessible treatment of an unsettling topic—the current large-scale economic shaping of academic scientific research. Of first-rate importance to scientists and philosophers of science as well as those in the wider science studies and science policy communities, it will prove eye-opening as well to graduate and even undergraduate students in a variety of courses."
—Janet A. Kourany, University of Notre Dame
"The Commodification of Academic Research provides college-level, scholarly collections with the first book-length analysis of the trend of science to become a sales method in modern universities. It offers philosophical and social analysis by scholars of research and ethics and other areas, discussing the moral responsibilities of universities and considering the sociopolitical issues of the organization of science. No college-level science collection should be without!"

—The Midwest Book Review
"Science research, medical research, and engineering projects at the modern university have been changing rapidly in recent years with the influx of larger amounts of corporate and government monies targeted at specific topic areas. . . . This provocative collection . . . raises an awareness of the controversial issues. The text, along with useful index, notes and references, will appeal to researchers in ethics and the philosophy of science."
—Choice
"[Provides] an excellent treatment of this extremely complex and somewhat worrisome shift in the cultural character and socio-political context of contemporary academic research."
—Metascience
University of Pittsburgh Press, 9780822962267, 360pp.
Publication Date: May 15, 2012
About the Author
Hans Radder is professor of philosophy of science and technology at Vrije Universiteit Amsterdam. He is the author or editor of several books, including: "The Material Realization of Science; In and About the World: Philosophical Studies of Science and Technology; The Philosophy of Scientific Experimentation; "and" The World Observed/The World Conceived."