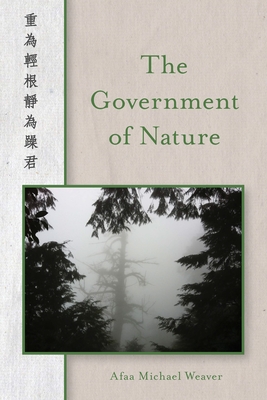 The Government of Nature (Pitt Poetry Series) (Paperback)
University of Pittsburgh Press, 9780822962311, 80pp.
Publication Date: February 1, 2013
* Individual store prices may vary.
Description
This is the second volume of a trilogy (the first was The Plum Flower Dance) in which Weaver analyzes his life, striving to become the ideal poet. In The Government of Nature, Afaa Michael Weaver explores the trauma of his childhood—including sexual abuse—using a "cartography and thematic structure drawn from Chinese spiritualism." Weaver is a practitioner of Daoism, and this collection deals directly with the abuse in the context of Daoist renderings of nature as metaphor for the human body.
About the Author
Afaa Michael Weaver is the author of eleven previous poetry collections, including Timber and Prayer: The Indian Pond Poems, My Father's Geography, and The Plum Flower Dance: Poems 1985 to 2005. He is Alumnae Professor of English at Simmons College in Boston. Weaver is the recipient of an NEA fellowship, a Pew fellowship, and a Pennsylvania Council on the Arts fellowship. He has been awarded two Pushcart Prizes and a Fulbright scholar appointment, among other honors.
Praise For The Government of Nature (Pitt Poetry Series)…
"A book of narrative meditations that look bravely and, at times, with striking clarity, at the memory of childhood abuse--the poems falling down on the memory itself like so much rain. But these poems don't point only to themselves--their reach extends out, developing a deep politics of suffering, survival, and family history. Weaver's poems are crisp in their narrative telling, and also rich with the lyrical complexity that is the pillar of Weaver's work. . . .If you want to come face to face with the ways identity, family history, language, and suffering build and rebuild who we imagine ourselves to be, then read 'The Government of Nature.' And read it more than once."
—Prairie Schooner
"Weaver has written a great deal about [the world] of human memory and its effects on the adult mind. His poems about family and race have become essential to the canon of contemporary American poetry, and his latest collection extends his range to include lyrics and narratives on Eastern spirituality. Weaver's poems, carefully measured in rather long-lined, regular stanzas, are packed with detail about American history and culture . . . The horror that often lies under the surface of the more autobiographical poems is always understated, which makes the clarity of literal meaning that he achieves all the more moving."
—West Branch
"Weaver's devotion to craft and the sincerity of his approach to incorporating elements of Chinese literature and philosophy into his poetry distinguish his voice within African American letters and among American verse writ large. Throughout 'The Government of Nature,' the poet moves freely, permitting his verse to wander and ultimately transcend boundaries. . . . In this respect the poetry functions as a bridge, connecting experiences drawn from Black America to enduring works drawn from the Chinese tradition."
--African American Review
 
"In these nuanced, sobering, and beautifully cadenced poems, the poet tries to deal with haunting, mysterious voices of past, present, and future—whether of fear, anxiety, joy, love, or hope. Reconciling East and West, he achieves solacing harmony and tranquility. A marvelous work."
—Ching-Hsi Perng, President of Taipei Chinese Club, International PEN
Past praise for Afaa Michael Weaver

"Weaver . . . finds a place in the legacy of Whitman and the mid-nineteenth century when in the evolution of American poetry the glory of vernacular speech first became fused in verse with an inspired sense of the American self, sensuous and yet transcendent. Weaver's verse acknowledges the guidance of that tradition and honors it. . . . His vision is local and focused, and as befits a poet of genuine depth and seriousness of purpose, it is as wide as the horizon itself. . . . We see Weaver's world through the eye of an intensely private and personal self, which both embraces the public sphere and holds it at bay. . . . The range of his poetical language stretches wide."
—Arnold Rampersad from his introduction to Multitudes
 
Past praise for Afaa Michael Weaver

"It is nothing less than a personal cosmogony, cosmology: each section heralded by the five elements of Chinese philosophy. . . . It is a tour de force of expansiveness in African American poetics. . . . Marvelous. Huge. Prodigious."
—Vince Gotera, North American Review on The Plum Flower Dance
 
Past praise for Afaa Michael Weaver

"Afaa Michael Weaver is one of the most significant poets writing today. With its blend of Chinese spiritualism and American groundedness, his poetry presents the reader (and the listener, for his body of work is meant to be read aloud) with challenging questions about identity, about how physicality and spirit act together or counteract each other to shape who we are in the world. His attention to the way language works is rare, and the effects of that attention on his poetry are distinctive and expansive."
—Henry Louis Gates for Baltimore Magazine
or
Not Currently Available for Direct Purchase