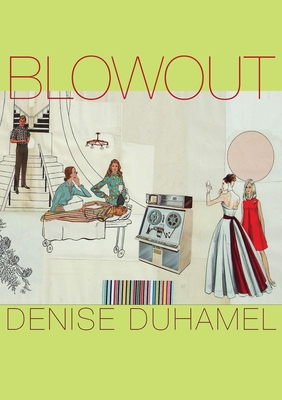 Blowout (Pitt Poetry Series) (Paperback)
University of Pittsburgh Press, 9780822962366, 104pp.
Publication Date: February 17, 2013
* Individual store prices may vary.
Description
Finalist, National Book Critics Circle Award.
In Blowout, Denise Duhamel asks the same question that Frankie Lyman & the Teenagers asked back in 1954—"Why Do Fools Fall in Love?" Duhamel's poems readily admit that she is a love-struck fool, but also embrace the "crazy wisdom" of the Fool of the Tarot deck and the fool as entertainer or jester. From a kindergarten crush to a failed marriage and beyond, Duhamel explores the nature of romantic love and her own limitations. She also examines love through music, film, and history—Michelle and Barak Obama's inauguration and Cleopatra's ancient sex toy. Duhamel chronicles the perilous cruelties of love gone awry, but also reminds us of the compassion and transcendence in the aftermath. In "Having a Diet Coke with You," she asserts that "love poems are the most difficult poems to write / because each poem contains its opposite its loss / and that no matter how fierce the love of a couple / one of them will leave the other / if not through betrayal / then through death." Yet, in Blowout, Duhamel fiercely and foolishly embraces the poetry of love.
About the Author
Denise Duhamel is professor of English at Florida International University and the author of numerous poetry collections, including Ka-Ching, Two and Two, and Queen for a Day: Selected and New Poems.  Duhamel has written five chapbooks of poetry and coedited, with Maureen Seaton and David Trinidad, Saints of Hysteria: A Half-Century of Collaborative American Poetry. The recipient of numerous awards, including an NEA fellowship, she has been anthologized widely, including Penguin Academics: Contemporary American Poetry; Seriously Funny: Poems about Love, Death, Religion, Art, Politics, Sex, and Everything Else; and Word of Mouth: Poems Featured on NPR's "All Things Considered." Duhamel is guest editor for The Best American Poetry 2013.
Praise For Blowout (Pitt Poetry Series)…
"Brims with Duhamel's characteristic fixations—language (the British slang of 'My New Chum'), poor or at least pathetic everyday behavior (losing hundreds between the ATM and her car), pop culture (movies, TV, eBay, pole dancing), unpleasant erotic memories ('Kindergarten Boyfriend,' 'Or Whatever Your Final Destination May Be,' 'Victor')—and still presents the miracle of how serious a life embedded in humdrum and commercialized reality can be. In fact, one poem in particular, 'Worst Case Scenario'—a solid block of successive personal disasters—negatively apotheosizes just such embeddedness. It takes your breath away."
—Booklist

"Open this book, and you plunge into a maelstrom; Duhamel unspools line after long line about a bitter divorce and its aftermath. . . . While Duhamel leads us through the grubbiness of the breakup, the tone is more black comedy than self-pity. . . . A finely drawn if somewhat obsessive portrait for readers who like their poetry on the narrative side."
—Library Journal
"Denise Duhamel's Blowout chronicles the journey from heartbreak to new love but is so much more. It is a meditation on love and the sacrifices we make to create it in tenements, in condos, on boardwalks, and in our own hearts. Wearing her rare shade of Bali Brown lipstick, Duhamel strides through lovelorn streets like a Valkyrie, a straight-talking goddess, who takes on the teeming world and makes it her own."
—Barbara Hamby
"The discerning exuberance that has long defined Denise Duhamel's work is distressed in Blowout, but it is ultimately resilient. These poems traverse the distance between loss (the first poem is 'How Will It End') and praise (the last poem is 'Ode to Eyebrows') with the urgency of someone 'trying to remember the exact wording of [her] fortune.' Duhamel's poems continue shouldering difficult, disorderly subjects with remarkable imagination and candor. She remains one of the best poets writing today. Blowout is a devastating book."
—Terrance Hayes
"Blowout is a terrific book of poems that delivers the pleasures of a good novel. Its protagonist is brave and resilient. She's observant and curious about the world no matter what happens to her. She's unsparing and hilarious. Whether wrenched by uncoupling, or catapulted back to childhood, or plummeting from fiscal cliffs, or shooting the rapids of postmodern romance, she is our hero. She never retreats, never turns bitter, gives everyone and everything (no matter how painful) its due, never losing eloquence or nerve. If I had a daughter old enough to read what a woman's life really is, the glory and the comedy and the hell of it, I'd give her this book."
—Amy Gerstler
"Duhamel is one of my favorite poets and one of the most captivating, comforting, challenging writers I have ever read. . . . 'Blowout' is as momentous, as staggering, as devastating and triumphant as the word implies."
—The Iowa Review (Julie Marie Wade)
"[A] knockout . . . Duhamel puts language on a taut highwire, gives it a spotlight, and makes it dazzle. . . . Throughout 'Blowout,' Duhamel simultaneously marries heartbreak to humor. The book is that rare and fabulous blend of conversational talk and burnished lyricism. There is a wisdom in 'Blowout' born from its talky gorgeousness. . . . Beauty is always risky, and with Duhamel at the wheel, it's also always where we will be delivered. I'll follow Duhamel anywhere she leads."
—Florida Book Review
"Duhamel's poetry is admirable for so many reasons; she's playful and wise and funny and heartbreaking all at once. What more do you want from poetry?"
—Chamber Four