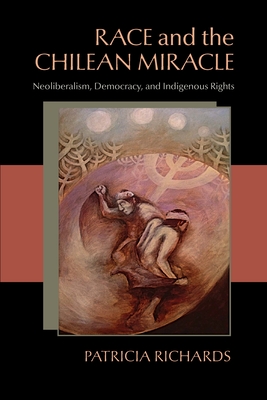 Race and the Chilean Miracle
Neoliberalism, Democracy, and Indigenous Rights (Pitt Latin American Series)
Paperback

* Individual store prices may vary.
Description
The economic reforms imposed by Augusto Pinochet's regime (1973–1990) are often credited with transforming Chile into a global economy and setting the stage for a peaceful transition to democracy, individual liberty, and the recognition of cultural diversity. The famed economist Milton Friedman would later describe the transition as the "Miracle of Chile." Yet, as Patricia Richards reveals, beneath this veneer of progress lies a reality of social conflict and inequity that has been perpetuated by many of the same neoliberal programs.

In Race and the Chilean Miracle, Richards examines conflicts between Mapuche indigenous people and state and private actors over natural resources, territorial claims, and collective rights in the Araucanía region. Through ground-level fieldwork, extensive interviews with local Mapuche and Chileans, and analysis of contemporary race and governance theory, Richards exposes the ways that local, regional, and transnational realities are shaped by systemic racism in the context of neoliberal multiculturalism..

Richards demonstrates how state programs and policies run counter to Mapuche claims for autonomy and cultural recognition. The Mapuche, whose ancestral lands have been appropriated for timber and farming, have been branded as terrorists for their activism and sometimes-violent responses to state and private sector interventions. Through their interviews, many Mapuche cite the perpetuation of colonialism under the guise of development projects, multicultural policies, and assimilationist narratives. Many Chilean locals and political elites see the continued defiance of the Mapuche in their tenacious connection to the land, resistance to integration, and insistence on their rights as a people. These diametrically opposed worldviews form the basis of the racial dichotomy that continues to pervade Chilean society.

In her study, Richards traces systemic racism that follows both a top-down path (global, state, and regional) as well as a bottom-up one (local agencies and actors), detailing their historic roots. Richards also describes potential positive outcomes in the form of intercultural coalitions or indigenous autonomy. Her compelling analysis offers new perspectives on indigenous rights, race, and neoliberal multiculturalism in Latin America and globally.

Praise For Race and the Chilean Miracle: Neoliberalism, Democracy, and Indigenous Rights (Pitt Latin American Series)…
"This superbly written book tells several different but intertwined stories about neoliberal multiculturalism in southern Chile. It provides an in-depth description of state policies in the region, concentrating mainly on the Concertación governments (1990-2010). It also takes a close look at the competing views of local people with regard to those policies. And here lie two of the major strengths of the work: its emphasis on multiplicity, and its attention to detail."—Journal of Latin American Studies

"An engaging, well-researched, and timely analysis of the ways in which race and racism have influenced Chilean society and politics. Drawing on a rich body of literature about race in Latin America, in-depth oral interviews, and ethnographic fieldwork in the south of Chile, [Richards] successfully demonstrates how neoliberalism has marginalized Mapuche communities in Chile and consolidated traditional racial ideas and hierarchies. . . . The author is especially successful in providing a very complete picture of the conflict, bringing together an analysis of the state and state policies as well as what she calls 'local subjectivities'-the many different voices of a heterogeneous indigenous community. Overall, this outstanding book provides a much-needed perspective on a most persistent conflict in post-authoritarian Chile. Highly recommended."
—Choice
 

"A first-rate examination of race and class in Chile; one that demonstrates significant continuities in projects of colonial dispossession and the contemporary treatment of indigenous peoples by the state and local elites."
—Bulletin of Latin American Studies

"A much-needed work that draws the readers' attention to the strong connection between neoliberalism and race in a country that holds a special place in the history of neoliberalism. The historiographic significance of Richards' work is evident. Readers interested in Hispanic American history will find the author's diachronic analysis of changes and continuities in Chile's colonial relations and systemic racism highly rewarding."
—Hispanic American Historical Review

"Drawing on notions of race and multiculturalism, Patricia Richards contributes to a growing literature critical of the so-called Chilean miracle. Counterposing testimonies from Mapuche individuals, political authorities, and activists to those of Chilean state officials and local elites, Richards traces the continuities, for the Mapuche people, between colonial dispossession and current neoliberal policies."
—Florencia E. Mallon, University of Wisconsin-Madison
 

"Provides a clear, scrupulous, and detailed account of the responses of indigenous and nonindigenous peoples to the unique combination of neoliberalism and multiculturalism in Chile. Descriptively rich and analytically powerful, it thereby contributes a Chilean dimension to wider debates."
—Sarah A. Radcliffe, University of Cambridge

"Richards skillfully weaves local voices and perspectives with theoretical analysis. The discussions of Mapuche racial identity and local elite perspectives in particular are rich in detail and provide evidence of complex, sometimes contradictory, forms of consciousness. <I>Race and the Chilean Miracle</I> is unique in its in-depth study of multiculturalism in neoliberal Chile, its data on nonindigenous local perspectives, and the theoretical arguments it advances."
—Lynn Horton, Chapman University
University of Pittsburgh Press, 9780822962373, 256pp.
Publication Date: June 7, 2013
About the Author
Patricia Richards is associate professor of sociology and women's studies at the University of Georgia. She is the author of Pobladoras, Indígenas, and the State: Conflicts Over Women's Rights in Chile.