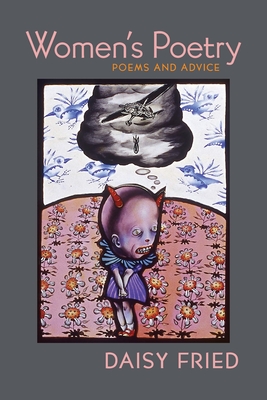 Women's Poetry
Poems and Advice (Pitt Poetry Series)
Paperback

* Individual store prices may vary.
Description
Daisy Fried's third book of poetry is a book of unsettling, unsettled Americans. Fried finds her Americans everywhere, watching Henry Kissinger leave the Louvre, trapped on a Tiber bridge by a crowd of neo-fascist thugs, yearning outside a car detailing garage for a car lit underneath by neon lavender, riding the train with Princeton seniors who have been rejected by recession-bound Wall Street, feeding stray cats drunk at midnight, bitching at her mother in the labor room, shopping with wide-bodied hunters for deer-dismembering band saws in the world's largest supplier of seasonal camouflage, cursing her cell phone and husband at eighty-five miles an hour, hiding behind the mask of an advice column to proclaim Charles Bukowski "America's greatest poetess." There is nothing like this book, because there is nothing in it but America. No comfort, no consolation, no life-affirming pats on the back, no despair about God, no fear or acceptance of death, no irrational exuberance, no guilt or weariness, no misery even in the middle of personal and political crisis. Plenty of humor and plenty of seriousness. Joy. And a new kind of poetry: not nice, but rich and real.
Praise For Women's Poetry: Poems and Advice (Pitt Poetry Series)…
"Fried is a poet who will 'tense up' when she hears 'an affirming poem,' finding 'Sourness a kind of joy I try for intricately.'  Her present-tense poems vividly record the impressions of our moment: road rage, smartphones, magnet loops, Facebook, a 'gun megachurch.' In 'Kissinger at the Louvre (Three Drafts),' the background of a cellphone self-portrait captures 'a dark figure' who 'looks familiar,' but 'I look fat in it,' a tourist decides, 'And deletes.' Fried announces she's not the kind of poet to place Kissinger before 'The Raft of the Medusa,' but of course, in making her point, she decorously does just that. 'Midnight Feeding' embodies Fried's ironic resistance to the romantic: taking cat food to a shed, she wears a baby monitor 'like a Miss America sash' and 'nothing / but underpants, flipflops.' The moon is out, but Fried spurns the poetic impulse: 'There are too many / stars in poems you have to get drunk to write.' . . . This is a commanding book, and its first and last poems especially stand out: 'Torment,' a biting narrative about narcissistic students, and 'Ask The Poetess,' a hilarious parody of advice columns and the poetry business."
—The New York Times
"The title poem in Fried's dazzling new collection begins 'I, too, dislike it. / However,' and skips down a full stanza before completing the line and lavishly describing a tricked-out Nissan G-TR emerging from a garage. The patently masculine sight sparks an unexpected epiphany in the speaker about desire. In the potent blank spaces between 'However' and the rush of the second stanza, Fried displays her gift for honoring hesitation not as a feminine quirk but more as a necessary pause before reaching enlightenment and sometimes even ecstasy. Fried ponders pregnancy, Italian art, frustrating adjunct teaching jobs, Stendahl, and Henry Kissinger. The final section, 'Ask the Poetess: An Advice Column,' shows wit and range worthy of playwright Wendy Wasserstein. In one of the most memorable exchanges, the oracular, tongue-in-cheek poetess is asked why people write confessional poetry when they could just 'go to church and confess.' With irony and equanimity, she responds, 'In church confession, Catholics confess their sins. In confessional poetry, persons of all faiths confess how others have sinned against them.'"
—Booklist
"Whether she's portraying college seniors ('fifteen responsible children . . . in attitudes of surrender'), Kissinger 'befuddled by culpability,' an Iraq War protest in Rome (naming ourselves/Tourists Against the War'), the 'poetess' as advice columnist, or her own pregnancy ('The worst discomforts . . . self-pity.'), National Book Critics Circle Awards finalist Fried is devastatingly on target and funny in a way that can make you blanch."
—Library Journal
"Daisy Fried displays an intense and refined attention to the troubles of the present moment. Effectively blending the personal with the more universal, she delves into issues surrounding womanhood, but also looks at the troubles of humanhood. . . . British literary critic F. R. Leavis insists on a poetry in touch with its time. . . . Daisy Fried has mastered this, as her poems successfully reflect the contemporary climate."
—Coldfront
"Fried is one of the most engaging contemporary poets writing today, for she is as thoughtful, witty or wise as the best conversationalists. Yet, like two of her favorite poets, Charles Bukowski and Frank O'Hara, her utter lack of self-consciousness allows her to develop a unique connection with her readers, an intimacy that some poets would cut off their writing hands to replicate. . . .In every one of these poems there is the trademark Fried voice, sure and recognizable as a close confidante who manages to provide you with a slice of life by the way she fractures the story-line and interlineates her reactions and impressions. . . . .For those who like readable, funny, intensely honest poetry, it doesn't get much better than this."
—Against Interpretation
"The poetry of Daisy Fried practices for a for-real poetry vérité; Fried loves the rough, tumbling texture of vernacular impressionism, all the quirks and idiomatic pell-mell of spoken consciousness. Her poetic voice—long-striding, unpretentious, unsentimental—is anchored by a rock-solid, almost rude, recurrent honesty, intimate as a punch in the arm. The result of Fried's vigorous, forward-rushing style, her passionate and tender social acumen, and her blunt, sensible clarity is a poetry more convincingly in touch with the lived life than almost anyone else's. I go back to her books over and over."
—Tony Hoagland
"'I, too, dislike it'. Daisy Fried's witty take on Women's Poetry isn't what you'd expect. This isn't the grapey communion wine of the sisterhood, but a galling, and galvanic, and gimlet-eyed appraisal of human behavior across a panoply of contexts. To my ear, what Fried does with the American vernacular is matchless: She infuses it with the savage energy that William Carlos Williams was looking for a century ago when he wrote despairingly, 'We believe that life in America is compact of violence and the shock of immediacy. This is not so. Were it so, there would be a corresponding beauty of the spirit, to bear it witness.' Here is a woman who strides across a moonlit back lawn to feed feral kittens she has named Raphael, Gabriel, and Lucifer. Such are the revamped angels in the house of women's poetry. To which I say Amen."
—Ange Mlinko
"'She was tired of sad modern endings. . . . She narrated things calmly and swiftly,' Daisy Fried writes, as her steely narration, calm and swift, dismantles our expectations for poetries that address gender, class, motherhood, politics, and poetries.  In 'sourness a kind of joy,' she asserts, and throughout this stunning collection demonstrates this over and again, most strikingly in the beautiful braidings of 'Attenti Agli Zingari.' These poems end as they begin: fiercely, frankly, getting the last word: 'scomplicated.'"
—Susan Wheeler
University of Pittsburgh Press, 9780822962380, 88pp.
Publication Date: March 10, 2013
About the Author
Daisy Fried is the author of My Brother Is Getting Arrested Again, a finalist for the National Book Critics Circle Award, and She Didn't Mean to Do It, winner of the Agnes Lynch Starrett Poetry Prize. She has received Guggenheim, Hodder, and Pew Fellowships, a Pushcart Prize, and the Cohen Award from Ploughshares. Fried reviews poetry books for the New York Times, Poetry, and the Threepenny Review and was awarded Poetry magazine's Editor's Prize. She has taught creative writing at Bryn Mawr College and in Warren Wilson College's low-residency MFA program. Fried lives in Philadelphia, Pennsylvania.