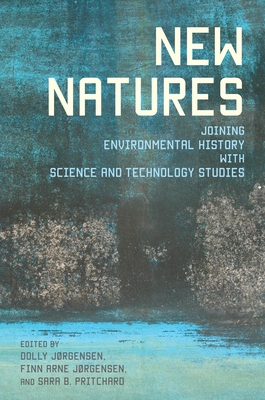 New Natures
Joining Environmental History with Science and Technology Studies
Paperback

* Individual store prices may vary.
Description
New Natures broadens the dialogue between the disciplines of science and technology studies (STS) and environmental history in hopes of deepening and even transforming understandings of human-nature interactions. The volume presents richly developed historical studies that explicitly engage with key STS theories, offering models for how these theories can help crystallize central lessons from empirical histories, facilitate comparative analysis, and provide a language for complicated historical phenomena. Overall, the collection exemplifies the fruitfulness of cross-disciplinary thinking.
The chapters follow three central themes: ways of knowing, or how knowledge is produced and how this mediates our understanding of the environment; constructions of environmental expertise, showing how expertise is evaluated according to categories, categorization, hierarchies, and the power afforded to expertise; and lastly, an analysis of networks, mobilities, and boundaries, demonstrating how knowledge is both diffused and constrained and what this means for humans and the environment.
Contributors explore these themes by discussing a wide array of topics, including farming, forestry, indigenous land management, ecological science, pollution, trade, energy, and outer space, among others. The epilogue, by the eminent environmental historian Sverker Sörlin, views the deep entanglements of humans and nature in contemporary urbanity and argues we should preserve this relationship in the future. Additionally, the volume looks to extend the valuable conversation between STS and environmental history to wider communities that include policy makers and other stakeholders, as many of the issues raised can inform future courses of action.
Praise For New Natures: Joining Environmental History with Science and Technology Studies…
"Both individually and collectively, this is a fine and coherently organized set of essays. The authors' usage of STS theory to illuminate their empirical cases are interesting in and of themselves, but also suggestive of ways that other environmental historians might profitably deepen and expand their own research through judicious adaptations of theory."
--ICON: Journal of the International Committee for the History of Technology
"Overall, an interesting and challenging read."
--Choice Magazine
"'New Natures' achieves its aim of 'fostering more explicit theoretical dialogue between the fields' of environmental history and science studies in brilliant fashion. While the essays treat a broad array of topics, unity comes in each focusing on how science and technology studies theory can enrich the interpretive scope of environmental history narratives. The result is a methodological meditation that will instruct not only historians, philosophers, and sociologists of science, but also anyone interested in how to go about achieve true interdisciplinarity. . . I recommend this book highly, not just to those interested in environmental history but in many other fields as well. The different insights these essays provide about the profitable and enriching use of STS theory are generally applicable to many areas of historical inquiry."
—Science and Education
"The overall endeavor of blending STS with environmental history is an idea whose time has come and I am glad to see this volume out in the world."
—Technology and Culture
"Timely and important. A welcome volume that seizes upon an emerging interest and body of scholarship at the intersections of environmental history and science and technology studies, particularly among a younger generation of scholars in both fields."
—Gregg Mitman, University of Wisconsin-Madison
University of Pittsburgh Press, 9780822962427, 304pp.
Publication Date: July 1, 2013
About the Author
Dolly Jørgensen is a researcher in the department of ecology and environmental science at Umeå University, Sweden.

Finn Arne Jørgensen is associate senior lecturer of history of technology and environment at Umeå University, Sweden.

Sara B. Pritchard is assistant professor in the department of science and technology studies at Cornell University. 
or
Not Currently Available for Direct Purchase