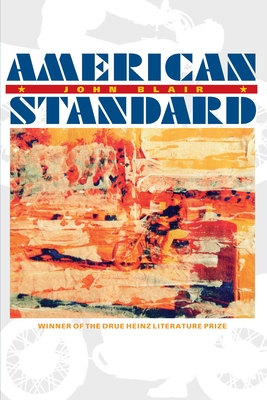 American Standard (Pitt Drue Heinz Lit Prize) (Paperback)
University of Pittsburgh Press, 9780822962441, 192pp.
Publication Date: November 3, 2002
Other Editions of This Title:
Hardcover (10/27/2002)
* Individual store prices may vary.
Description
Winner of the 2002 Drue Heinz Literature Prize
Selected by Elizabeth Hardwick

It is difficult to see what lurks beneath the surface of a muddy river, an alligator-infested lake, or a John Blair short story. The deep currents that drive a demure, devout, church-going woman to shoot her husband; the ripple effect of a midnight rendezvous at church youth camp that goes slightly—then horribly—askew; the sinkholes that can swallow Porsche dealerships—or marriages; what is dredged up in American Standard cannot easily be forgotten.

Set mostly in central Florida, Blair's stories are filled with people living lives of disquieting longing and stubborn isolation. For them, this is the American standard, as ubiquitous and undistinguished as vitreous china bathroom fixtures.

About the Author
John Blair was born in St. Petersburg, Florida. A self-proclaimed army brat, he "grew up everywhere," but spent most summers visiting his grandparents in Lake Wales, Florida. A professor of English at Southwest Texas State University, Blair lives in San Marcos with his wife and son.

Praise For American Standard (Pitt Drue Heinz Lit Prize)…
"These are well-crafted and memorable stories . . . However tumultuous his plots—and he does sometimes toy with lurid situations—Blair always manages to subordinate the violence of his scenes to a subtle and thoroughgoing investigation of character, using the pressure of extremes not to cheat the reader with easy thrills, but to explore and give dimension to the people he creates. The result is a cast of rich and wholly convincing characters, all the more lifelike and compelling because their quarrels with the world are always grounded first in a fierce struggle with themselves."
—Gulf Coast
"Beautifully poignant, imaginative and unforgettable."
—ForeWord
"There is depth, intelligence, and compassion in [Blair's] stories."
—Library Journal
"These stories show the frailty of relationships, the pain of breakups, and the moments of insight that illuminate the darkness. One of the most remarkable characters in these stories is Central Florida itself. Blair captures the intensity of its sunlight, clouds, and sudden downpours . . . He also understands the power of its lakes as a source of mystery for the young and solace for the world-weary."
—Atlanta Journal-Constitution