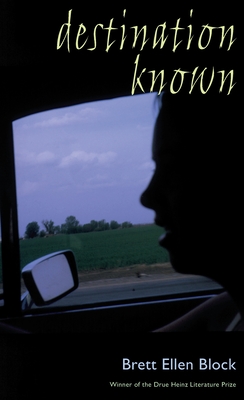 Destination Known (Pitt Drue Heinz Lit Prize)
Paperback

* Individual store prices may vary.
Other Editions of This Title:
Hardcover (9/27/2001)
Description
Winner of the 2001 Drue Heinz Literature Prize
Selected by C. Michael Curtis

The characters in Brett Ellen Block's debut collection of short stories may know their destinations, but they don't always rush to them. From a runaway on an ice cream truck to a down-and-out retiree in a porn shop, they struggle to face both their pasts and their futures.

In a series of tightly focused and deftly drawn vignettes, Block explores the detours, potholes, and speed bumps along the road of life. These are stories about people at loose ends in their lives, coming to the realization that they can't always sit back and enjoy the ride. Whether they're committing petty larceny, moping their way through the winding streets and canals of Venice, or seeking to escape North Carolina's Outer Banks, Block's characters are learning to get behind the wheel and take control.

Praise For Destination Known (Pitt Drue Heinz Lit Prize)…
"The stories in Brett Ellen Block's new collection are motion-blurred as snapshots taken from a moving car. . . . Block catches the transients, drifters, and runaways that populate her best stories in mid-flight, when a moment's hesitation or a step in a different direction makes all the difference in the world."
—New York Times
"Block's strong debut collection of a dozen stories offers a world on wheels, full of random encounters and uncertain outcomes, all filtered through working-class sensibilities. . . . With much of the gloom but a shade less doom than the hard-bitten noir fiction these stories resemble, the moodiness, and pervasive sense of a generation at odds with its future, make Block a writer worth watching."
—Kirkus Reviews
"What's most satisfying about the stories in the pace. These stories move. We don't have to linger in long, drawn-out sagas, but are immersed in the stories the same way we experience dreams that we can't really place, can't really say if they were true life experiences or just nocturnal visions." . . . hopefully, Block is at work on another book, because unlike her characters, she's a writer who displays promise."
—Arkansas Democrat–Gazette
University of Pittsburgh Press, 9780822962458, 160pp.
Publication Date: November 7, 2014
About the Author
Brett Ellen Block is a New Jersey native whose stories have appeared in The Sonora Review, The Mid-American Review,The Red Cedar Review, and various anthologies. Past winner of the Hopwood Prize and the Haugh Prize, she lives in Los Angeles, California.
or
Not Currently Available for Direct Purchase