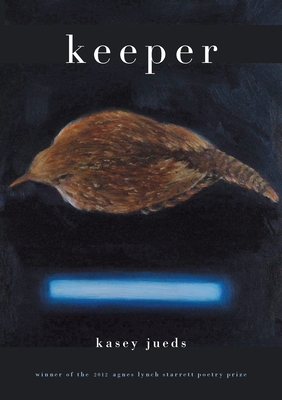 Keeper (Pitt Poetry Series)
Paperback

* Individual store prices may vary.
Description
The poems in Keeper explore, and long for, intimacy: with nature, with others, with the unknown. They delve into purely dark spaces (the insides of birdhouses and mailboxes, caves of prehistoric paintings) and in-between places, searching out, as Paul Eluard put it, the other world inside this one, pointing to the pervasive sensuality that connects all beings, and to the fact that essential goodness and sorrow often walk hand in hand.

Praise For Keeper (Pitt Poetry Series)…
"This debut collection is nearly perfect-measured, never pretending to ask more than it can deliver, and yet producing poem after proportional poem with a satisfying precision . . . Jueds tackles everything with a strong, sure intelligence, unravelling the 'reverse sides' in order to see how the world works . . . Kasey Jueds is a keeper."
—Georgia Review
"In 'Keeper,' Kasey Jueds leads the reader through spaces both urban and rural (from San Francisco to snowbound Wisconsin), both grand and minute (From the vast span of the sea to the interior of a mailbox). Yet all these images are bound together by the ceaseless desire 'Keeper' inspires in the reader: to be transformed by one's surroundings, to unravel the world's most slippery and liminal truths, to unbind oneself from one's own inarticulate flesh."
—Glyph Journal
"This perceptive, sensual history of a soul grows more bold and mysterious as it unfolds: to show a life pondering what to keep, what to lose, what to leave, and what to find: and discovering that, as an old gravestone says, what we had, we have."
—Jean Valentine
"Kasey Jueds's poems make my arterial blood rush! She is so uniquely attuned to the world, such a close noticer of both the human and the natural world (and both as one) that I often feel her poems are not so much about something as they are the actual things, the actual embodiments of their subjects. Isn't that what good poems are supposed to do? I say, yes!"
—Thomas Lux
"From the very first poem, 'The Bat' we know we are in the presence of a vibrant new voice, confident and true. Jueds has a sensitive ear and a sharp eye. These poems of memory, of the natural world, and of art go from the specific to the abstract with amazing ease. 'How perfect the things we are not meant to see' she tells us, even as she is showing us these very things."
—Linda Pastan
"A beautiful collection of meditations on keeping and its opposite, whether that be losing or relinquishing. Throughout the book she explores the hunger to hold on to the objects, experiences, memories that shape and define our passage through the world; and the very different hunger to move into the dark, into boundlessness and emptiness."
—Valparaiso Poetry Review
[Kasey Jueds'
Keeper
] should be on many bookshelves. This book is packed full of gorgeous imagery. Her voice resonates as both mature woman, and innocent child. Her tone is worldly, even when mentioning the smallest of things. [This is] new poetry worthy of multiple reads."
—Examiner.com
University of Pittsburgh Press, 9780822962564, 88pp.
Publication Date: October 29, 2013
About the Author
Kasey Jueds's poetry has appeared in numerous publications, including Beloit Poetry Journal, Prairie Schooner, Manhattan Review, Salamander, Crab Orchard Review, Women's Review of Books, and 5AM. She has been awarded residencies at the Virginia Center for the Creative Arts, Soapstone, and the Ucross Foundation. A native of Coral Gables, Florida, she lives in Philadelphia, Pennsylvania.

or
Not Currently Available for Direct Purchase