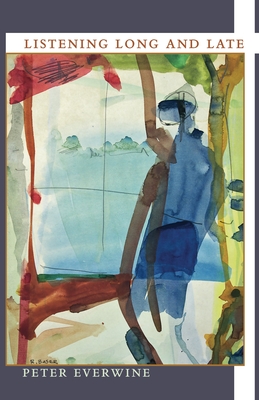 Listening Long and Late (Pitt Poetry Series) (Paperback)
University of Pittsburgh Press, 9780822962588, 88pp.
Publication Date: August 15, 2013
* Individual store prices may vary.
Description
"What a rich array of music lies within <I>Listening Long and Late.</I> With refreshing authenticity, Everwine weds playfulness to practice, lyricism to narrative, pathos to the ordinary. Indeed, he has listened 'long and late' to the music of such venerable masters as Tu Fu, the hidden genius on the street, and the anonymous Aztec poets of the fourteenth and fifteenth centuries. Everwine writes with the same 'deified heart' that divines the mystery of his quotidian subjects in a language that is at once plain and poetic. His own work seamlessly segues into his translations from the Hebrew and Nahuatl, as if all the poems belonged to the same poet, which they in fact do, as the glorious multitudes of Peter Everwine, one of the masters of our age."—Chard deNiord

About the Author
Peter Everwine is the author of seven previous poetry collections, including From the Meadow and Collecting the Animals, which won the Lamont Poetry Prize in 1972. Everwine is the recipient of numerous honors, including two Pushcart Prizes, an American Academy of Arts and Letters Award in Literature, and fellowships from the NEA and the Guggenheim Foundation. He is emeritus professor of English at California State University, Fresno, and was a senior Fulbright lecturer in American poetry at the University of Haifa, Israel.

Praise For Listening Long and Late (Pitt Poetry Series)…
"What a rich array of music lies within Listening Long and Late. With refreshing authenticity, Everwine weds playfulness to practice, lyricism to narrative, pathos to the ordinary. Indeed, he has listened 'long and late' to the music of such venerable masters as Tu Fu, the hidden genius on the street, and the anonymous Aztec poets of the fourteenth and fifteenth centuries. Everwine writes with the same 'deified heart' that divines the mystery of his quotidian subjects in a language that is at once plain and poetic. His own work seamlessly segues into his translations from the Hebrew and Nahuatl, as if all the poems belonged to the same poet, which they in fact do, as the glorious multitudes of Peter Everwine, one of the masters of our age."
—Chard deNiord
"The poems in Peter Everwine's Listening Long and Late are woven out of memory and mystery, with surprising translations from the Nahuatl and Hebrew. Everwine is a faithful listener, always keeping 'one ear cocked for the unsayable.' These elegiac poems murmur and sing and celebrate the most humble creatures among us."
—Anne Marie Macari
Past praise for Peter Everwine
"[Everwine's] poems . . . possess the simplicity and clarity I find in the great Spanish poems of Antonio Machado and his contemporary Juan Ramón Jimenez but in contemporary English and in the rhythms of our speech, that rhythm glorified."
—Philip Levine, Ploughshares 

"Unnervingly articulate on every page. Everwine is an everyman voice filtered through a good scholar's wisdom. His ear is firmly to the ground but his brain knows what Zarathustra mused. . . Sublime work by a learned and generous heart."
—Today's Book of Poetry
Past praise for Peter Everwine
"Peter Everwine is a poet's poet, the kind of writer other poets read with equal parts of envy, gratitude, and joy. . . . [His] poems are crystalline, pared to essentials; they are heartrending, and they are beautiful."
—Gary Young
or
Not Currently Available for Direct Purchase