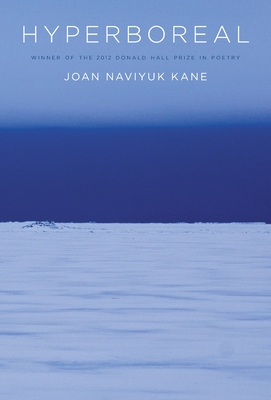 Hyperboreal (Pitt Poetry Series) (Paperback)
University of Pittsburgh Press, 9780822962625, 80pp.
Publication Date: October 21, 2013
* Individual store prices may vary.
Description
Winner of the 2012 Donald Hall Prize in Poetry
Selected by Arthur Sze

Hyperboreal originates from diasporas. It attempts to make sense of change and to prepare for cultural, climate, and political turns that are sure to continue. The poems originate from the hope that our lives may be enriched by the expression of and reflection on the cultural strengths inherent to indigenous culture. It concerns King Island, the ancestral home of the author's family until the federal government's Bureau of Indian Affairs forcibly and permanently relocated its residents. The poems work towards the assembly of an identity, both collective and singular, that is capable of looking forward from the recollection and impact of an entire community's relocation to distant and arbitrary urban centers. Through language, Hyperboreal grants forum to issues of displacement, lack of access to traditional lands and resources and loss of family that King Island people—and all Inuit—are contending with.
About the Author
Joan Naviyuk Kane is Inupiaq with family from King Island and Mary's Igloo, Alaska. Her recent honors include the 2013 Native Arts and Cultures Foundation Literature Fellowship, a Creative Vision Award from United States Artists, and a Rasmuson Foundation Artist Fellowship. Kane is on the faculty of the MFA program at the Institute of American Indian Arts and received the 2014 Indigenous Writer in Residence fellowship at the School for Advanced Research. She also received the Whiting Writers' Award for her first poetry collection, The Cormorant Hunter's Wife.
Praise For Hyperboreal (Pitt Poetry Series)…
"'Arnica nods heavy-headed on the bruised slope.' In these vivid, disturbing, and mysterious poems, written in English and Inupiaq, Joan Kane writes out of the landscape and language of the far north. Hyperboreal is situated at a threshold between cultures, between inner and outer worlds, and the poems are voiced with a 'knife blade at the throat's slight swell.' Her compelling vision is earned through a language that will dislocate in order to relocate and whose tonal shifts are exact and exacting."
—Arthur Sze
"Kane's lyric voice is terse, lapidary; each of these poems is, as John Taggart would have it, a 'room for listening.' There is an immense and insistent stillness here, 'From / the forest / the wind / has all revised' to the 'dreams inlaid with rigid marrow.' These are songs of 'intaction,' of that which endures, poised against 'the / long fermata of dusk / and its promised repetition.'"
—G. C. Waldrep
"I am mesmerized by these poems, their sonorous pathways across time and place; how they absorb and let me linger awhile in their stark beauty. Joan Kane has created a genuine indigenous poetic, irreducible, a point of reorigination and new beginnings. Hyperboreal will be remembered and celebrated."
—Sherwin Bitsui
"If 'Hyperboreal' is, in part, an elegy to a dying culture, its author's exquisitely lithic imagery and arresting, angular syntax may at least renew our faith in the power of language. Kane articulates an enduring vision of the world, both abstract and scrupulously grounded, collective and stunningly intimate."
—Zyzzyva
"What is at stake in 'Hyperboreal' is not only the threat of 'cultural and biological extinction' faced by the Inupiaq people of Alaska, but also the contested place of the human in that landscape and more particularly, the lyric subject. Kane questions its customary property (which is loss) and its dream of deliverance from extinction through craft. . . In this book, we are never far from the prospective end of a line of human beings, if not the extinction of the landscape."
—Boston Review
"Demonstrates the poet's own vigorous and powerful lyric strokes, galvanizing and preserving an ancient relationship between humanity and the most northern landscapes of Earth. Kane's language, images, and lines are electric and deliberate--lasting impressions of 'a thousand / Summer days in extravagant succession.' ['Hyperboreal'] offers a confident and impressionistically lasting poet voice; and it portrays a philosophy of humble coexistence with nature."
—American Microreviews and Interviews
"Arctic landscapes and colonial transformations of Alaska Native communities provide the subjects of poems that are powerful, rich, and formally and conceptually intricate."
—NAIS (Native American and Indigenous Studies)