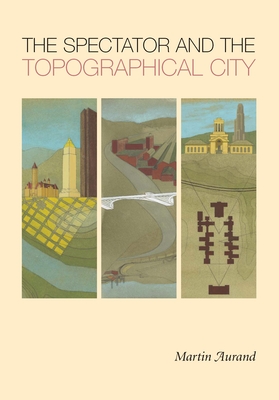 The Spectator and the Topographical City
Paperback

* Individual store prices may vary.
Other Editions of This Title:
Hardcover (11/15/2006)
Description
The Spectator and the Topographical City examines Pittsburgh's built environment as it relates to the city's unique topography. Martin Aurand explores the conditions present in the natural landscape that led to the creation of architectural forms; man's response to an unruly terrain of hills, hollows, and rivers. From its origins as a frontier fortification to its heyday of industrial expansion; through eras of City Beautiful planning and urban Renaissance to today's vision of a green sustainable city; Pittsburgh has offered environmental and architectural experiences unlike any other place.
Aurand adopts the viewpoint of the spectator to study three of Pittsburgh's "terrestrial rooms": the downtown Golden Triangle; the Turtle Creek Valley with its industrial landscape; and Oakland, the cultural and university district. He examines the development of these areas and their significance to our perceptions of a singular American city, shaped to its topography.
Praise For The Spectator and the Topographical City…
"Pittsburgh has at last found a muse to celebrate its sublime beauty. Lodged ethereally as a spectator, Aurand views the city historically, capturing the city's changing topography, built environment, meaning, and spirit. He finds sublime grandeur and beauty in it all."
--Pennsylvania Magazine of History and Biography
"Beautifully conceived and written, meticulously researched and documented, and handsomely illustrated."
--PHLF News
"The highest compliment I can pay Aurand's book is that it transforms us, the readers, into the ideal spectators Aurand's topographical city deserves. Once we become the spectator we can never see Pittsburgh and its architectural history the same way again."
--JSAH
"This is, in a sense, a book that needed to be written, which you'll see as you read through and realize the wealth of information that Aurand has brought together in accomplishing this study. Many sources and other studies of Pittsburgh have touched on portions of this material, but this book pulls it all together in a satisfying way that has not been fully explored before.""
—Columns, AIA
University of Pittsburgh Press, 9780822962762, 248pp.
Publication Date: January 15, 2014
About the Author
Martin Aurand is architecture librarian and archivist at Carnegie Mellon University.
or
Not Currently Available for Direct Purchase