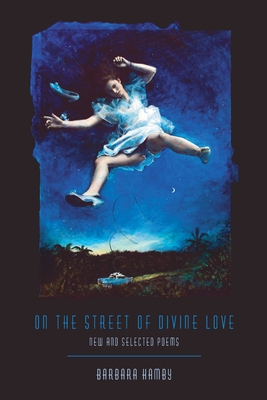 On the Street of Divine Love
New and Selected Poems (Pitt Poetry Series)
Paperback

* Individual store prices may vary.
Description
Perhaps Paul Kareem Taylor said it best in his piece called On the Road Again: Barbara Hamby's American Odyssey: "Reading Barbara Hamby's poetry is like going on a road trip, one where the woman behind the wheel lets you ride shotgun as she speeds across the open highways of an America where drive-in movie theaters still show Janet Leigh films on Friday nights, hardware stores have not been driven out of business by soulless corporate titans, and where long poetic lines first introduced by Walt Whitman and resurrected by Ginsberg are pregnant with a thousand reasons to marvel at the world we inhabit."
Praise For On the Street of Divine Love: New and Selected Poems (Pitt Poetry Series)…
"Barbara Hamby's poems are wild, outspoken, seriously funny, motor-mouth rambles that take us through hoops of association to places both unexpected and unimpeachable.  This collection offers a generous helping of poems so crackling with references and busy with verbal energy you might feel them buzzing in your hands."
—Billy Collins
"Whether
On the Street of Divine Love
is the best book of poems
in
the world will long be debated by literary scholars (some stuffed shirts still put forth
The First Folio
or a Goldbarth title) but surely it
is
the world: snazzily beatific, unashamedly carnal, at sumptuous ease with both the down-home blues and the intellectual high life, sometimes porch sitting and sometimes globe-trotting, and always in love with life and with a multiplex language that proves the love, this book is a true-blue spinning planet; maybe there are nine in our system after all!"
—Albert Goldbarth
"On the Street of Divine Love
bursts with Barbara Hamby's signature wit and verbal twists. If language were an Olympic sport—and why is it not?—Hamby would bring home the gold in bungee-jumping bobsledding, boogie woogie boxing, and soul-searching curling. Her poems sparkle with their topnotch surfaces, then bring us deep into the gusto of life, the painful and ecstatic truths. Readers will want to linger
On the Street of Divine Love."
—Denise Duhamel
"Get ready for a wild ride when you dive into Barbara Hamby's 'On the Street of Divine Love.' You'll soon be roaring down avenues of the alphabet with a poet who is dazzled by--and a master of--our lingo. . . .The effervescent and all-encompassing nature of Hamby's poems give the reader a sense of discovery and vitality. "
--New York Journal of Books
"Her words whirl along the pages encased in a cyclone of metaphor and images, full of passion and reality. . . .Hamby's unconventional style causes page after page to turn and upon reading the last page of this selected poetry collection, the reader is left looking for more. She is a poet of energy, breathing life into words with passion. The way a poet should."
—Fox Chase Review
"Beyond their beautiful words, these poems are psychological expeditions, portals into complex layers of time and space—and not just the streets of Italy, Paris, and London where her speakers often find themselves. In Hamby's writing, memory, both personal and collective, is a constant layer over the present."
--Coal Hill Review
"Barbara Hamby's On the Street of Divine Love is magnificent. Containing fifteen new poems and a distillation of her previous four collections, it should secure her place among the best American poets. Hamby is the master of the contemporary ode, many of which are included here, and the collection as a whole is an ode to words, not in a sterile, theoretical way, but in a way that is 'giddy with being alive'. . . . They are a feast"
--Heavy Feather Review
"Hamby's poems are good-natured, gossipy, and fun . . . She attempts to render in verse the near chaos of perception that typifies human consciousness as it careers through a lifetime's worth of unruly accident . . . With its delight in sensuality and in the sensuality of speech above all, with its yoking together of serious and casual concerns, with its steady stream of confidences occasioned by irruptions of memory, there is a lot to like in Hamby's verse . . . You might come away from 'On the Street of Divine Love' thinking its author is not only an excellent poet but would also make an ideal conversationalist over dinner. We can't all wangle the invitation, but we can all read her quick-witted, exuberant, and molto simpatico book."
—Yale Review
University of Pittsburgh Press, 9780822962885, 144pp.
Publication Date: January 21, 2014
About the Author
Barbara Hamby is the author of four poetry collections, including All-Night Lingo Tango and Babel, winner of the Donald Hall Prize in Poetry. Her book of linked stories, Lester Higata's 20th Century, received the 2010 Iowa Short Fiction Award/John Simmons Award. She also coedited an anthology of poetry, Seriously Funny, with her husband David Kirby. Hamby is the recipient of a Guggenheim Fellowship, a Kate Tufts Award, and numerous other honors. Her poems have been widely anthologized, including The Best American Poetry 2000, 2009, and 2010. She is a Distinguished University Scholar at Florida State University, specializing in poetry and fiction.