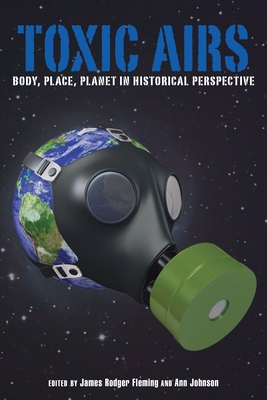 Toxic Airs (Paperback)
Body, Place, Planet in Historical Perspective
University of Pittsburgh Press, 9780822962908, 304pp.
Publication Date: March 23, 2014
* Individual store prices may vary.
Description
Toxic Airs brings together historians of medicine, environmental historians, historians of science and technology, and interdisciplinary scholars to address atmospheric issues on a spectrum of scales from body to place to planet. The chapters analyze airborne and atmospheric threats posed to humans, and contributors demonstrate how conceptions of toxicity have evolved and how humans have both created and mitigated toxins in the air.

Specific topics discussed include medieval beliefs in the pestilent breath of witches, malarial theory in India, domestic and military use of tear gas, Gulf War Syndrome, Los Angeles smog, automotive emissions control, the epidemiological effects of air pollution, transboundary air pollution, ozone depletion, the contributions of contemporary artists to climate awareness, and the toxic history of carbon "die"-oxide. Overall, the essays provide a wide-ranging historical study of interest to students and scholars of many disciplines.
About the Author
James Rodger Fleming is a professor of science, technology, and society at Colby College and a visiting lecturer and officer at Columbia University. His most recent book is Fixing the Sky: The Checkered History of Weather and Climate Control, winner of the Sally Hacker Book Prize from the Society for the History of Technology and the Lewis J. Battan Author's Award from the American Meteorological Society.

Ann Johnson is an associate professor of history and philosophy at the University of South Carolina. She is the author of Hitting the Brakes: Engineering Design and the Production of Knowledge and has served as an associate editor for the journals Technology and Culture and Engineering Studies and on the editorial boards of Osiris, Transfers, and Synthesis, a book series in the history of chemistry.
Praise For Toxic Airs: Body, Place, Planet in Historical Perspective…
"Uniformly well written, the book is a valuable resource for those interested in relationships between policy and science. Highly recommended."
—Choice
"Toxic Airs is not merely a catalog of aerial concerns, but a full examination of how humans, in different times and places, have tried to address perceived problems with the air they breathe."
—Bulletin for the History of Chemistry
"The authors have produced a marvellously wide-ranging book that opens up a series of questions for scholars of medico-environmental history. Not the least of these is what the relationship between the history of medicine and environmental history should be."
—Social History of Medicine
"Lying at the nexus of two complementary historiographical traditions—the chemical and the environmental—this fascinating book provides a wholly original take on the multiple ways in which society has articulated conceptualizations and understandings of the air and atmosphere. Drawing on a wide range of disciplinary arenas, contributors address the social, political, economic, and cultural dimensions of weather and climate in historical perspective, making important contributions to scholarship across a range of themes, including the history of science, science technology and society, the history of climate change debates, and the history of chemistry."
—Georgina Endfield, University of Nottingham
"'All that is solid melts into air,' wrote Marx and Engels, evoking a sense of air as a medium where things disappear, evaporate, and lose their impact. In Toxic Airs, the contributors convincingly argue otherwise, that air is substantial. This rich and diverse interdisciplinary exploration of the history, culture, and science of air and atmosphere makes visible the complex relationship of humans and environment."
—Finn Arne Jørgensen, Umeå University, Sweden
or
Not Currently Available for Direct Purchase