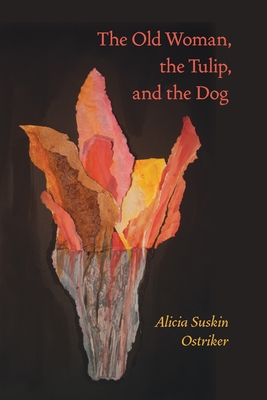 The Old Woman, the Tulip, and the Dog (Pitt Poetry Series)
Paperback

* Individual store prices may vary.
Description
This book by a major American poet is for poetry readers at all levels, academic and non-academic. It is a sequence of poems that will surprise and delight readers—in the voices of an old woman full of memories, a glamorous tulip, and an earthy dog who always has the last word.
Praise For The Old Woman, the Tulip, and the Dog (Pitt Poetry Series)…
"In her new collection, 'The Old Woman, the Tulip, and the Dog,' Ostriker brings together a trio of voices-each a living thing, each mortal and yet calling out its truths in a clear tenor. These three voices, extraordinary in their ordinariness, build conversations that whirl around each topic. They catch angles of consideration that illuminate issues of the body, mind, relationships, and the earth itself. The woman, the tulip, and the dog have their say in turn, agree and disagree where they ought, and leave the reader in a deep, smiling contemplation. . . When Ostriker speaks this way through these dynamic, lovable beings, I am reminded of the burdens and aches of life as well as its joys and triumphs."
—Prairie Schooner

"These three characters weave a multicolored tapestry of memory, philosophy, and desire to remind us that our perceptions of life are what define experience."
—Coal Hill Review

"A joyous, accessible engagement."
—Lilith Magazine


"'Without contraries there is no progression,' wrote William Blake. To his examples—reason and energy, attraction and repulsion—Alicia Ostriker's singular sequence adds restraint and splash, tenderness and ferocity, naked hunger and the fine garb of style. <I>The Old Woman, the Tulip, and the Dog</I> could only have been written by a poet who's both lived and written her way to this marvelously idiosyncratic, urgent, no-holds-barred book, a masque and pageant not to be missed."
—Mark Doty

"The informal mastery of these poems is marvelous. Ostriker has devised a style that is offhand-seeming, a voice that is effortlessly concise, and a subject matter that has leapt far past the personal. Bawdy, ruthless, insightful, and compassionate, these poems feel like play, even as they take you through configuration after configuration of the mortal condition. Reading them, I feel like I'm encountering poetry translated from Eastern Europe, or written by some unknown brilliance in Argentina. Everyone should read them; they're beautiful, and universal."
—Tony Hoagland

"In a voice absolutely her own—wild, earthy, irreverent, full of humor and surprise—Ostriker takes on nothing less than what it feels like to be alive. Her three memorable characters ache and revel and insist on our many-sidedness. God, sex, song, and more are up for discussion, but the pleasure-loving dog has the last word."
—Joan Larkin

"Ostriker has composed a spirited theme and variations for an uncommon trio: a woman endowed with the candor and wisdom of age; a sultry tulip, tossing her dark red skirts; and a dog, all bounding uninhibited energy. Their interplay is filled with surprises, enlivened by Ostriker's shrewd psychological insights and sure comic touch."
—Chana Bloch

"The implications of these poems are worthy of consideration and the journey to arrive at meaning is an entertaining and enjoyable undertaking."
—The Hollins Critic
University of Pittsburgh Press, 9780822962915, 80pp.
Publication Date: January 15, 2014
About the Author
Alicia Suskin Ostriker is one of America's premier poets and critics. She is the author of fifteen poetry collections, including The Book of Life: Selected Jewish Poems, 1979–2011; The Book of Seventy; The Mother/Child Papers; No Heaven; the volcano sequence; and The Little Space: Poems Selected and New, 1968–1998, as well as several books on the Bible.  She has received the Paterson Poetry Prize, the Paterson Award for Sustained Literary Achievement, the William Carlos Williams Award, the San Francisco State Poetry Center Award, the National Jewish Book Award, and has twice been a finalist for the National Book Award. Ostriker is professor emerita of English at Rutgers University and teaches in the low-residency MFA program of Drew University.