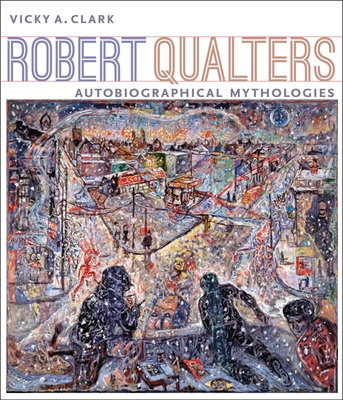 Robert Qualters
Autobiographical Mythologies
Paperback

* Individual store prices may vary.
Description
Teeming with convulsive energy, raw brush strokes, and Fauvist colors, the paintings of Robert Qualters reflect the multifaceted and kinetic spirit of the artist himself. In these pages, the art historian Vicky A. Clark presents the first in-depth study of the art and life of this iconic Pittsburgh artist. Complemented by over eighty color images, Clark follows Qualters's development from early childhood sketches through his recent autobiographical work. As she reveals, Qualters is truly a quotidian raconteur, who infuses allegory, narrative, and memory into his paintings of urban landscapes, neighborhoods, lunch counters, and amusement parks. Here, we witness coming of age and sexuality, economic hardship, working-class identities, death and rebirth, and many other themes, both personal and universal.

As Clark shows, Qualters's oeuvre is the culmination of a lifelong artistic journey, recalling a host of influences from Japanese prints to Matisse, Bruegel, and Rembrandt. Throughout his career, and despite the popularity of his contemporaries, many of whom adopted abstract painting, Qualters has maintained a distinctly representational style, keeping a close link to his audience through the power of visual storytelling.

Robert Qualters was named Pennsylvania Artist of the Year for 2014, part of the Governor's Awards for the Arts in Pennsylvania, sponsored by the Pennsylvania Council on the Arts.
Praise For Robert Qualters: Autobiographical Mythologies…
"As a conjurer of life in twentieth-century industrial Pittsburgh, painter Robert Qualters has no peers. Possessed of a distinctive style and palette, Qualters's work stands as rich testimony to his long life of observation matched by great powers of evocation. This book frames his singular achievement."
—Richard Armstrong, Director, Solomon R. Guggenheim Museum and Foundation
"An indispensable aid to appreciating Mr. Qualters' evolution from Carnegie Institute of Technology art student to a member of California's Bay Area Figurative movement of the late 1950s, when he was influenced by Richard Diebenkorn. In clear, conversational prose, Ms. Clark provides solid scholarship while contextualizing the people and artistic movements that shaped Mr. Qualters."
--Pittsburgh Post-Gazette
"The author aptly describes Qualters as a 'visual raconteur,' in whose paintings the reward is found when one keeps looking and follows the full story to unfold. . . . Clark's
Robert Qualters: Autobiographical Mythologies
fittingly documents Qualters' career and place in the regional art scene, and will be a valuable and enduring resource on this unique artist."
—Western Pennsylvania History
"Vicky A. Clark writes with respect and insight into the work of this important contemporary artist while placing him within the greater context of art history without pomposity. Although Robert Qualters's setting is Pittsburgh, it is clear that his subject matter is the human condition. The book resonates with stories and connections, including those between an artist and the art historian and critic who, with great sincerity, gives us an intimate view of his life's work."
—Judith H. O'Toole, director and CEO, Westmoreland Museum of American Art
"Qualters has long deserved this book, and Clark has done him complete justice. She traces Qualters's career and accurately describes him as a unique artist with a gift for color, architectural design, and city people. Unlike various sprayers and splashers among his contemporaries, Qualters studied the art of Matisse, Vermeer, Hopper, and John Kane and subsumed their influences into a style that is unmistakably his. Replete with color illustrations, Clark's book will stand as a definitive treatment of an artist of international stature who paints and still lives in the changing city of his choice."
—Samuel Hazo
"Qualters includes the city and region throughout his work . . . But layered on top of these familiar spaces, says Clark, is the true focus-Qualters' narrative of the human condition. . . . A valuable and enduring resource on this unique artist."
—Western Pennsylvania History
University of Pittsburgh Press, 9780822962922, 232pp.
Publication Date: January 28, 2014
About the Author
Vicky A. Clark is an independent curator based in Pittsburgh. She has been a part of the Pittsburgh art scene for thirty years as a curator at the Carnegie Museum of Art and the Pittsburgh Center for the Arts. She also curated an exhibition on Pittsburgh art titled The Popular Salon for the People: Associated Artists at the Carnegie Museum of Art and authored the accompanying catalogue.
or
Not Currently Available for Direct Purchase