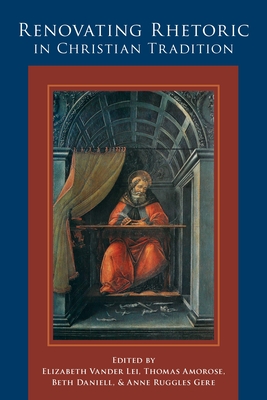 Renovating Rhetoric in Christian Tradition (Composition, Literacy, and Culture) (Paperback)
University of Pittsburgh Press, 9780822962946, 224pp.
Publication Date: February 28, 2014
* Individual store prices may vary.
Description
Throughout history, determined individuals have appropriated and reconstructed rhetorical and religious resources to create effective arguments. In the process, they have remade both themselves and their communities. This edited volume offers notable examples of these reconstructions, ranging from the formation of Christianity to questions about the relationship of religious and academic ways of knowing.

The initial chapters explore historic challenges to Christian doctrines and gender roles. Contributors examine Mormon women's campaigns for the recognition of their sect, women's suffrage, and the statehood of Utah; the Seventh-day Adventist challenge to the mainstream designation of Sunday as the Sabbath; a female minister who confronted the gendered tenets of early Methodism and created her own sacred spaces; women who, across three centuries, fashioned an apostolic voice of humble authority rooted in spiritual conversion; and members of the Woman's Foreign Missionary Society of the Methodist Episcopal Church, who redefined notions of women's intellectual capacity and appropriate fields for work from the Civil War through World War II.

Considering contemporary learning environments, other contributors explore resources that can help faculty and students of composition and rhetoric consider more fully the relations of religion and academic work. These contributors call upon the work of theologians, philosophers, and biblical scholars to propose strategies for building trust through communication.

The final chapters examine the writings of Apostle Paul and his use of Jewish forms of argumentation and provide an overarching discussion of how the Christian tradition has resisted rhetorical renovation, and in the process, missed opportunities to renovate spiritual belief.
About the Author
Elizabeth Vander Lei is professor of English, and cochair of the English department at Calvin College.
Thomas Amorose is professor of English at Seattle Pacific University.
Beth Daniell is professor of English and director of General Education in English at Kennesaw State University.
Anne Ruggles Gere is Arthur F. Thurnau Professor and Gertrude Buck Collegiate Professor at the University of Michigan where she directs the Sweetland Center for Writing and serves as cochair of the joint PhD program in English and education. She is a former president of the National Council of Teachers of English, a past chair of the Conference on College Composition and Communication, and a former member of the Executive Council of the Modern Language Association.
Praise For Renovating Rhetoric in Christian Tradition (Composition, Literacy, and Culture)…
"The historically rich and ongoing relationship between religion, faith communities and rhetoric has yielded many important works. This volume deserves a place among that bookshelf for offering some careful writing about overlooked or at least less obvious cases regarding the intersection of rhetoric and Christian tradition broadly defined. . . . The final strength of the text that [is] the unique cases offered. As such it would make a great second text in a course exploring the relationship between rhetoric and Christianity."—American Communication Journal
 
"Offers much for compositionists who want to work productively with religious students and explore the complex relationship between rhetoric and religion, and it does so largely through its twin themes of renovation and transfer. Extends the conversation about religion and religiously committed students in rhetoric and composition by simultaneously extending and blurring its boundaries, by prompting us to rethink notions of transfer through a more complex metaphor of renovation, and by reminding us that the Christian and rhetorical traditions alike are rife with ingenuity and creativity."
—Composition Forum
"This volume offers a powerful and much needed reminder to scholars in our field—as instructors and citizens—that religiously informed and motivated rhetors can and should be understood in the full complexity of their accomplishments."
—Patricia Bizzell, College of the Holy Cross
"While rhetoric and religion have always had a lot to offer each other, scholars in both fields have only recently begun to say what that involves. This collection of new and established voices marks a welcome advance in showing how this exciting challenge can be met in our own time."
—Walter Jost, University of Virginia
or
Not Currently Available for Direct Purchase