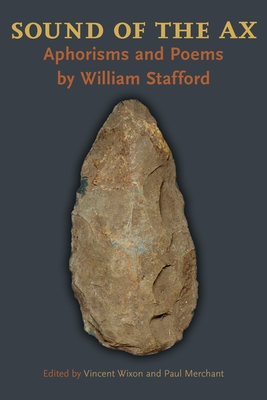 Sound of the Ax (Paperback)
Aphorisms and Poems by William Stafford (Pitt Poetry Series)
University of Pittsburgh Press, 9780822962960, 104pp.
Publication Date: February 10, 2014
* Individual store prices may vary.
Description
Sound of the Ax brings together for the first time over four hundred aphorisms and twenty-six aphoristic poems by one of America's most essential poets of the twentieth century. Many readers are familiar with the trenchant nature of William Stafford's poems, with lines such as "Justice will take us millions of intricate moves" and "Your job is to find what the world is trying to be," but have never had the opportunity to read a sustained selection from the thousands of wise, witty, and penetrating statements he created in over forty years of daily writing in his journal. In keeping with Stafford's varied interests, the aphorisms in Sound of the Ax explore many topics—war and peace, involvement, aging, appearances, fear, egotism, writing, nature, animals, suffering, faith, living an ethical life, and so on—with his incisive view. The poems are either made up entirely or primarily aphorisms, and range from the well-known "Things I Learned Last Week" to some never before collected. Readers will find much to enjoy and to think about here, and will return over and over to Sound of the Ax for inspiration, pleasure, and wisdom from an author noted for his integrity and mindful living.
About the Author
Vincent Wixon, scholar in the William Stafford Archives, is the author of three books of poetry: Blue Moon,The Square Grove, and Seed. He has coproduced documentary films on Lawson Inada and William Stafford. His article written with Paul Merchant, "William Stafford and His First Publishers: The Making of West of Your City and Traveling through the Dark," can be read on the Stafford Archives website.
 
Paul Merchant is the former director of the William Stafford Archives at the Aubrey R. Watzek Library, Lewis & Clark College. He is the author of several poetry collections including Bone from a Stag's Heart and Some Business of Affinity. He coedited, with Vincent Wixon, William Stafford's The Answers Are Inside the Mountains: Meditations on the Writing Life and Crossing Unmarked Snow: Further Views on the Writer's Vocation.
Praise For Sound of the Ax: Aphorisms and Poems by William Stafford (Pitt Poetry Series)…
"These brilliant lines are tuning forks, weather reports from a resonant interior world, to help us with the mysterious days confounding us. Dip in anywhere, repeatedly. Discover well-sharpened, minimalist axes of language, severing distraction and excess from our overstimulated brains. Whether you are a lifetime Stafford reader or brand-new to his voice makes no difference—his lines will help anyone live."
—Naomi Shihab Nye
"The Zuni believed that wearing turquoise made a horse sure-footed. When I'm reading Bill Stafford's Sound of the Ax I feel as if I'm walking along the same craggy mountains but, now, with a pound of turquoise in my saddlebags."
—Toi Derricotte
"This book is a pile of good kindling. William Stafford is sitting here with the whittling knife, playful, very intelligent, so lively and provocative. Sit down with him and feed some of these to your own fire."
—Coleman Barks
"Sound of the Ax is aces. It reveals many of Bill's greatest strengths—a willingness to live in company with paradox and the unknown, a sense of mission, a sense of fun. It'll go with New Poems of Emily Dickinson and Merwin's Asian Figures, kept within reach at the back of my desk."
—Robert Adams, photographer