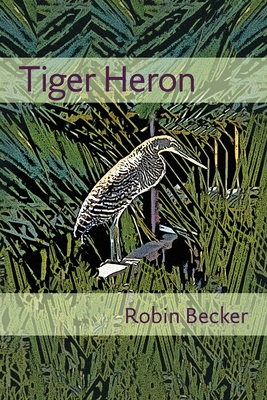 Tiger Heron (Pitt Poetry Series) (Paperback)
University of Pittsburgh Press, 9780822962984, 80pp.
Publication Date: January 30, 2014
* Individual store prices may vary.
Description
Appearance and disguise—in a Costa Rican rainforest, a West Village repair shop, or an intimate relationship—reveal the turbulence that undergirds daily life, as families and places undergo change. In "Elegy for the Norther Flying Squirrel" and "Divers," Becker takes up the science of climate change and habitat loss. "Language that is by turns virtuosic and quiet, astonishing and accurate," writes a reviewer of Becker's 2006 collection, Domain of Perfect Affection for Jewish Book World Magazine. The challenge of "aligning loss with love" exerts a potent tension in Tiger Heron, as age comprises mortal bodies and intimacies end. A self-mocking wit propels characters "to find and lose and find each other again"—in the imagination and in the stories these poems tell. The final line of "The Sounds of Yiddish"—"Spare us what we can learn to endure"—closes a playful send-up, dramatizing language, culture, and power. Writing in The Washington Post, former U.S. Poet Laureate Robert Pinsky praises Becker's "comic timing." Longtime readers of Becker's work will delight in poems cast in a variety of stanzas and experimental forms. Their occasions are diverse—an animal shelter, a failed trip to Venice, a hospice bedside—but Becker ultimately yokes a language of praise to our stumbling, humble, human efforts.
About the Author
Robin Becker, Liberal Arts Research Professor of English and Women's Studies at the Pennsylvania State University, is the author of seven poetry collections, including Domain of Perfect Affection, The Horse Fair, Giacometti's Dog, and All-American Girl, winner of the Lambda Literary Award. In 2002 the Frick Art and Historical Center in Pittsburgh published Venetian Blue, a limited-edition chapbook of Becker's art poems. She is the recipient of fellowships from the Bunting Institute, the Massachusetts Cultural Council, and the National Endowment for the Arts. In 2000 she received the George W. Atherton III Award for Excellence in Teaching from Penn State, and from 2010 to 2011 she served as the Penn State Laureate. For the Women's Review of Books, Becker edits poetry and writes a column on poetry called "Field Notes."
Praise For Tiger Heron (Pitt Poetry Series)…
"Becker's Tiger Heron, rich with animal life from the flying squirrel and prairie dog to inhabitants of the coral reefs of the Caribbean, expresses outrage and grief over the ongoing destruction of these ecosystems. A moving poem deals with homophobia, another celebrates Yiddish, 'a mongrel, Middle-High German.' These vivid, self-confident lyrics ranging from villanelle to couplet deserve close reading."
—Maxine Kumin, Pulitzer Prize winner
"Robin Becker looks straight at the failures of our human species, yet never loses her compassion or reduces the complexities and paradoxes to easy conclusions. Deftly, precisely, these poems express their wisdom in lines that surprise and delight. They are clear as open windows through which we see our lives."
—Ellen Bass, author of The Human Line
"Robin Becker's poems have the limpid clarity of an early Flemish painting, the crisp details always fusing into a larger illumination. Complicated loss, unsparing truth, animal grace, small comforts—her deft and daring language yields them all up fresh, the paint still wet."
—Alison Bechdel, author of Fun Home
"The surprise of this book is that the poems are actually stories—about devotion and death and decay—but somehow they're not sad stories. Because in all of them, Robin Becker reaches into the shadowy corners of love and pulls out feelings I didn't even know I wanted named. I didn't know you could sneak so much life into poems about death."
—Sarah Koenig, producer, This American Life
"Becker has developed a collection of poems that offer a realistic view of life, living and dying in a compassionate voice that is calming as you page through the poems in 'Tiger Heron.'
—Fox Chase Review
"Animals and family are important in Becker's world. In fact, animals are family. . . . The endearing company of our fellow creatures is part of what makes me feel at home in Becker's poetry. Her acceptance of natural cycles enriches the intimacy she builds. Many of the poems in 'Tiger Heron' deal with age, aging, dying, the deaths of parents and friends, the ongoing presence of the dead. Yet this is by no means a gloomy book, as the motif of loss is continually leavened by Becker's exuberant homage to appetite."
--Women's Review of Books
"One of Becker's particular talents is an ability to make an anvil of one word the rest of the poem then bends around . . . Observant songs of history and elegy, these poems turn our faces to what we can do with love and language, and what we can't."
--Lambda Literary Review
"Grief and loss punctuate Tiger Heron, but through this dizzying emotional landscape, Becker's technical prowess dazzles."
—Lilith Magazine
or
Not Currently Available for Direct Purchase