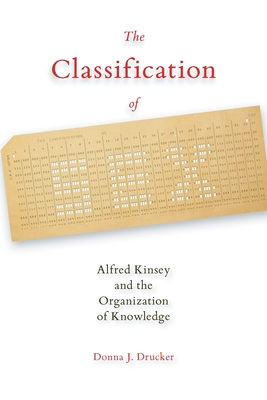 The Classification of Sex (Paperback)
Alfred Kinsey and the Organization of Knowledge
University of Pittsburgh Press, 9780822963035, 256pp.
Publication Date: July 31, 2014
* Individual store prices may vary.
Description
Alfred C. Kinsey's revolutionary studies of human sexual behavior are world-renowned. His meticulous methods of data collection, from comprehensive entomological assemblies to personal sex history interviews, raised the bar for empirical evidence to an entirely new level. In The Classification of Sex, Donna J. Drucker presents an original analysis of Kinsey's scientific career in order to uncover the roots of his research methods. She describes how his enduring interest as an entomologist and biologist in the compilation and organization of mass data sets structured each of his classification projects. As Drucker shows, Kinsey's lifelong mission was to find scientific truth in numbers and through observation—and to record without prejudice in the spirit of a true taxonomist.

Kinsey's doctoral work included extensive research of the gall wasp, where he gathered and recorded variations in over six million specimens. His classification and reclassification of Cynips led to the speciation of the genus that remains today. During his graduate training, Kinsey developed a strong interest in evolution and the links between entomological and human behavior studies. In 1920, he joined Indiana University as a professor in zoology, and soon published an introductory text on biology, followed by a coauthored field guide to edible wild plants.

In 1938, Kinsey began teaching a noncredit course on marriage, where he openly discussed sexual behavior and espoused equal opportunity for orgasmic satisfaction in marital relationships. Soon after, he began gathering case histories of sexual behavior. As a pioneer in the nascent field of sexology, Kinsey saw that the key to its cogency was grounded in observation combined with the collection and classification of mass data. To support the institutionalization of his work, he cofounded the Institute for Sex Research at Indiana University in 1947. He and his staff eventually conducted over eighteen thousand personal interviews about sexual behavior, and in 1948 he published Sexual Behavior in the Human Male, to be followed in 1953 by Sexual Behavior in the Human Female.

As Drucker's study shows, Kinsey's scientific rigor and his early use of data recording methods and observational studies were unparalleled in his field. Those practices shaped his entire career and produced a wellspring of new information, whether he was studying gall wasp wings, writing biology textbooks, tracing patterns of evolution, or developing a universal theory of human sexuality.
About the Author
Donna J. Drucker is a guest professor at Technische Universität Darmstadt, Germany.
Praise For The Classification of Sex: Alfred Kinsey and the Organization of Knowledge…
"The impact [Kinsey] had on encouraging Americans to speak more candidly about sex is incalculable. Against this standard story of sexual liberation, the religious Right portray Kinsey as a sexual deviant whose science cannot be trusted. In The Classification of Sex, Donna Drucker successfully traverses this dangerous academic landscape. Drucker focuses on Kinsey's work in population biology, and the methods he employed for sampling, data analysis and scientific computation. These techniques became the basis for Kinsey's biological understanding of human sexual variation."
—Times Literary Supplement (TLS)

 
"[Drucker] invites readers into the mind of the man who is usually viewed from the point of view of his prodigious contributions to sexology and his unrestrained views on human sexuality, rather than his intellectual development. It's a refreshing change of perspective on Kinsey, and one that explains how rigorous scientific thinking undergirded his great renown."
—The Scientist
 
"A work of detailed scholarship; [Drucker] burrowed into numerous institutional archives and plumbed countless letters . . . her book is full of fascinating detail, some of it refreshing and new, on Kinsey's working life, reading, and collegial relationships."
—H-Net Reviews

 
"This small volume makes a large contribution to the understanding of a less-examined aspect of Kinsey's professional life, specifically the intellectual and professional contributions of his early work as a biologist, taxonomist, and educator to his history-making work in the classification of human sexual behavior. Drucker compellingly traces the emergence of the sexuality scientist from the biologist who collected/classified gall wasps . . . to the professor who taught the famous marriage course at Indiana University using his interpretation of the scientific method. . . . Drucker's depiction of Kinsey as the taxonomist, always the collector and classifier, provides another insight into his personal and professional complexity."
—Choice
 
"Offers a lucid answer to the question of how Kinsey went from spending twenty years as a dedicated entomologist to being the world's most famous researcher on human sexuality. . . . A concise but thorough examination of Kinsey's approach and methods."
—ISIS
"Drucker does an excellent job of introducing Kinsey to those unfamiliar with his work, placing him firmly in the scientific realm, and deftly mapping out many of the ramifications of the reception and legacy of his work."
—History of Sexuality
"The most substantial book-length study of Kinsey's research currently available in the field of science studies. It contributes a new perspective to a well-researched field, which is not that easy to achieve. A great scholarly accomplishment and a pleasure to read."
—Stefan Bargheer, University of California, Los Angeles
"In <I>The Classification of Sex,</I> Drucker delineates Kinsey's early training, collecting, writings, and teaching in depth, and brings together and integrates conversations from the history of biology and sexuality studies in a way that will benefit readers from a range of fields."
—Miriam G. Reumann, University of Rhode Island
or
Not Currently Available for Direct Purchase