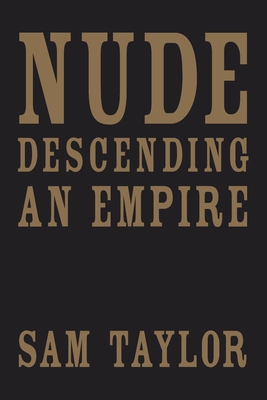 Nude Descending an Empire (Pitt Poetry Series)
Paperback

* Individual store prices may vary.
Description
As a collection of politically engaged poetry for the 21st century,  Nude Descending and Empire develops the lyrical voice of a citizen-poet speaking to the urgency of our contemporary moment, especially its ecological crisis. This is a book that brings all the supposed sensitivity of poetry into contact with the world we actually live in—with all its crises, madness, and modernity—and insists that we feel it all. A reader will recognize many of the urgent political issues of our time, yet will find them re-inhabited and transformed here by the imaginative power of poetry. Our great ecological crisis is cast as the fulfillment of a long history of violence, domination, lies, and alienation—in one word, empire—and the book suggests that a livable future requires that we wholly inhabit our body-heart-mind and discover a new paradigm.
Praise For Nude Descending an Empire (Pitt Poetry Series)…
"Sam Taylor's Nude Descending an Empire is a book that has large ambitions—and overwhelmingly succeeds at all of them. The voice here works at so many dimensions: spiritual, political, erotic, sensually worldly and quietly lyrical—and probably a dozen more! Few poets are able to write well in just one or two of these realms. That Taylor can do so much—he marries Frank O'Hara and Merwin, Whitman and Dante, your latest local radio report and science fiction!—is amazing in and of itself. And, then, when you take a breath and sit down hard reading this book, his gift at incantatory syntax takes this amazement to a wholly different level—you stand up, you read these poems aloud. I love the many lives of this book: his life as Sioux, Jew, a Christian peasant, and many others. I love how he curses and praises and sexes in the same poem, often in the same moment. Sam Taylor is a poet to reckon with, a poet to live with, a poet to marvel at. This is a wonderful book."
—Ilya Kaminsky

"Once in a while a book appears that seems forged from the truth. This is one. The poems entirely bypass the Adventures of Self so common in contemporary poetry. They take head-on the end of nature, for one thing, and the significance of human life in a world changing so perilously fast that it's barely recognizable from one moment to the next.  More than a few poems made me wish I'd written them."
—Chase Twichell

"Bountifully true to both the exploration of intimacy and physicality implied by Nude AND to the unpacking of the public and political implied by Empire, Sam Taylor's new book is a wonder, by turns riding the crest of our immediate American nano-moment and channeling the vatic voice of ancient wisdom. These are poems for the long haul: they replenish us."
--Albert Goldbarth

"Nude Descending an Empire is a stunning book, in all the varied shades of 'stun.' The nude descending an empire enacts an apocalyptic prophecy where the earth's inhabitants are scampering about barefoot and naked sheltering in the shades of the towers they had competed to build. But Sam Taylor is too astute a poet to only horrify us with the facts, with the impending damage. His voice is elegiac for all of us, for life on this planet, and his ironic sleights of hands point to the end of irony, apathy, or whatever we call the unconscionable ways that have sustained our consumption and violence. I know that when it comes to reciting and composing the psalms of our age, Taylor is the one I want to lead us in prayer."
—Khaled Mattawa

"No other poet I have read of late really digs into the American idiom like Taylor does. His poetic vocabularly includes CNN, Facebook, WalMart, Nike, and General Electric. . . . A gorgeous and difficult elegy for an American that has already descended, waved its handkerchief, and gone below."
—Poetry International's Weblog
University of Pittsburgh Press, 9780822963042, 104pp.
Publication Date: August 9, 2014
About the Author
Sam Taylor is the author of the poetry collection Body of the World, a finalist for ForeWordReviews Book of the Year. He has received the Amy Lowell Traveling Scholarship, the Dobie Paisano Fellowship, the James Michener Fellowship, and fellowship residencies from Yaddo and the Vermont Studio Center, among other honors. Taylor is an assistant professor of creative writing at Wichita State University.