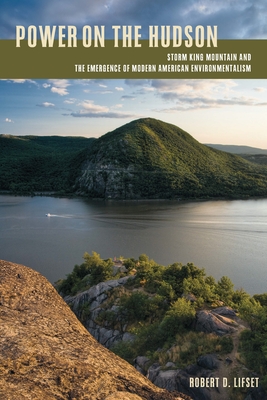 Power on the Hudson
Storm King Mountain and the Emergence of Modern American Environmentalism (Pittsburgh Hist Urban Environ)
Paperback

* Individual store prices may vary.
Description
The beauty of the Hudson River Valley was a legendary subject for artists during the nineteenth century. They portrayed its bucolic settings and humans in harmony with nature as the physical manifestation of God's work on earth. More than a hundred years later, those sentiments would be tested as never before. In the fall of 1962, Consolidated Edison of New York, the nation's largest utility company, announced plans for the construction of a pumped-storage hydroelectric power plant at Storm King Mountain on the Hudson River, forty miles north of New York City. Over the next eighteen years, their struggle against environmentalists would culminate in the abandonment of the project.

Robert D. Lifset offers an original case history of this monumental event in environmental history, when a small group of concerned local residents initiated a landmark case of ecology versus energy production. He follows the progress of this struggle, as Con Ed won approvals and permits early on, but later lost ground to environmentalists who were able to raise questions about the potential damage to the habitat of Hudson River striped bass.

Lifset uses the struggle over Storm King to examine how environmentalism changed during the 1960s and 1970s. He also views the financial challenges and increasingly frequent blackouts faced by Con Ed, along with the pressure to produce ever-larger quantities of energy.

As Lifset demonstrates, the environmental cause was greatly empowered by the fact that through this struggle, for the first time, environmentalists were able to gain access to the federal courts. The environmental cause was also greatly advanced by adopting scientific evidence of ecological change, combined with mounting public awareness of the environmental consequences of energy production and consumption. These became major factors supporting the case against Con Ed, spawning a range of new local, regional, and national environmental organizations and bequeathing to the Hudson River Valley a vigilant and intense environmental awareness. A new balance of power emerged, and energy companies would now be held to higher standards that protected the environment.
Praise For Power on the Hudson: Storm King Mountain and the Emergence of Modern American Environmentalism (Pittsburgh Hist Urban Environ)…
"Readers interested in past or present environmental conflicts will find Power on the Hudson a valuable case history . . . Lifset provides a fascinating, well-written account of this important case."
—Choice

"The Storm King project is an excellent choice through which to examine the rise and tactics of late twentieth-century environmentalism. Lifset has constructed a well-researched narrative of the people and events that shaped energy development on the river in the 1960s."
—The Journal of American History

"Lifset has provided readers a thorough account of the Storm King controversy, one of the defining episodes of modern environmental politics."
—American Historical Review

"Lifset offers a solid work of history that draws attention to the role of both ecological and energy issues in shaping environmentalism. His focus on legal change is also a welcome addition for those seeking a fuller understanding of the environmental movement."
—Environmental History

"Power on the Hudson is a first-rate piece of scholarship. Lifset has thoroughly mined a rich variety of primary sources and also draws on a series of fascinating personal interviews. The book is balanced in its presentation and convincing in its conclusions. It demonstrates a level of scholarly maturity that historians always seek but seldom achieve in their first books. It is an excellent contribution to the literature on environmental and energy history."
—J. Samuel Walker, author of Three Mile Island: A Nuclear Crisis in Historical Perspective

"Lifset's study is comprehensive and well-researched, integrating legal, ecological, political, and environmental issues that offer insight into Storm King's significance. The analysis is nicely situated within the important developments of the environmental movement, of New York State politics, and of the efforts of grassroots groups. Interviews with those involved add a depth of understanding as well."
—Kimberly A. Jarvis, Doane College

"'Power on the Hudson' explains the forces that have shaped today's Hudson as far north as the Capital Region, and the modern environmental movement. It will also help readers understand how ecology, politics and law are likely to affect whatever is the next breakthrough in energy."
—(Schenectady, NY) Daily Gazette

"Given the subject's centrality to environmental issues nationwide, the book is an asset for all environmental educators because it acts as a one-stop reference on the Storm King case and its immediate and legacy impacts on activism and governance."
—The Pennsylvania Geographer 
University of Pittsburgh Press, 9780822963059, 328pp.
Publication Date: August 5, 2014
About the Author
Robert D. Lifset is the Donald Keith Jones Assistant Professor of Honors and History at the University of Oklahoma.