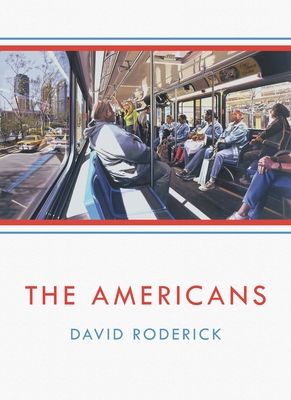 The Americans (Pitt Poetry Series) (Paperback)
University of Pittsburgh Press, 9780822963127, 88pp.
Publication Date: August 5, 2014
* Individual store prices may vary.
Description
David Roderick's second book, The Americans, pledges its allegiance to dirt. And to laptops. And to swimming pools, the Kennedys, a flower in a lapel, plastic stars hanging from the ceiling of a child's room, churning locusts, a jar of blood, a gleam of sun on the wing of a plane. His poems swarm with life. They also ask an unanswerable question: What does it mean to be an American? Restless against the borders we build—between countries, between each other—Roderick roams from place to place in order to dig into the messy, political, idealistic and ultimately inexplicable idea of American-ness. His rangy, inquisitive lyrics stitch together a patchwork flag, which he stakes alongside all the noise of our construction, our obsessive building and making, while he imagines the fate of a nation built on desire.

Winner of the 2014 Julie Suk Award for the best poetry book published by an independent press.
About the Author
David Roderick's first book of poems, Blue Colonial, won the APR/Honickman Prize. He has published poetry and fiction in several journals, including the Hudson Review, the Georgia Review, Indiana Review, New England Review, Poetry, the Southern Review, Slate, and the Virginia Quarterly Review. Roderick is a former Wallace Stegner Fellow and was awarded the Amy Lowell Travelling Scholarship, among other honors. Poems from this collection have won Shenandoah's James Boatwright III Prize and the Campbell Corner Poetry Prize, sponsored by Sarah Lawrence College. Roderick is associate professor of English in the MFA program at the University of North Carolina at Greensboro.
Praise For The Americans (Pitt Poetry Series)…
"We must listen to these timely words and remember the power of poetry to depict a society, to inspire change."
--Coal Hill Review
 
"Roderick [is] a poet of passion and a craftsman whose series of poems titled "Dear Suburb" appear throughout this outstanding collection of poems . . . Roderick reminds us of the dream of America, the American Dream and the loneliness of dreams, the longing for nostalgia and the possibility that delivers us into the future."
—Fox Chase Review
"Beautiful, eloquent, original."
--Chamber Four
"The life of comfort and its discontents is familiar territory, to be sure—but don't assume we're in the territory of 'American Beauty' just yet. Roderick's nuanced exploration of this life is pointedly not about the lurking repressed desires of suburban consumer life, where the lack of action on the surface cloaks a seething world of carnality and petty intrigue. Instead, Roderick's project in this book is to ponder the price of wars upon a population that has largely not been asked to pay for them in life or treasure. What are we paying in moral capital, Roderick wants to know, for an easy life in the suburbs? And most troubling, what if we have-or he has-'willingly' exchanged morality for comfort?"
--Colorado Review
"The Americans is a compelling meditation on the ways we go about our lives at this cultural moment, often unmoored from the facts of history though we drift along its shores. Part complicated love letter to suburbia, these poems demand that we consider not only what we are drawn to but also what we fail to see, how the apocryphal feeds our cultural amnesia. The poet asks: 'Must nostalgia / walk like a prince through all our rooms?' This lovely collection shows us a way to confront that question within ourselves."
—Natasha Trethewey, U.S. Poet Laureate
"The mindfulness and torque of this beautiful collection may be judged by the double drift of its epigraph: 'Nous sommes tous Américains.' Words of solidarity, words of aspiration, words (too often) of chagrin or shame. De Tocqueville to Moose Lodge to Trail of Tears: the whole rich mix of it is here, in poems exquisitely conceived and rendered."
—Linda Gregerson
"Like Robert Frank in his great photo essay of the same name, Roderick has some news for us: not only do we not know where we've come from, we don't know where we are. With care and a restorative watchfulness, he has made terrific poetry out of our drifting in the fog."
—David Rivard
"It's sort of remarkable the way David Roderick makes such gorgeous music of the deep and abiding loneliness of which our lives—and our nations and dreams—sometimes, often, are made. It's the music, the beauty, after all, that's balm to all this sorrow. The Americans reminds me of this."
—Ross Gay
or
Not Currently Available for Direct Purchase